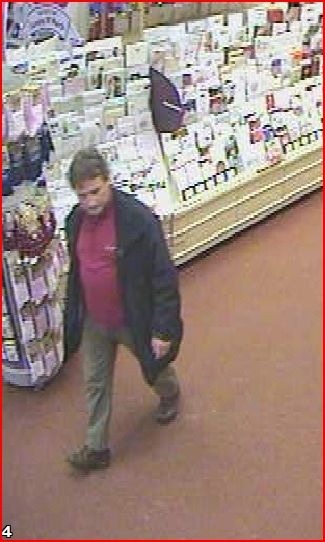 Northallerton police have released the image of a suspect following the theft of candles in the town.
The man was caught on CCTV in Clinton Cards at 4.40pm on Thursday 1 March 2012, when he allegedly took a number of candles from the Yankee Candle stand before leaving the store without paying. He re-entered the shop a few minutes later and took more candles, again with out paying for them.
The value of the stolen candles is approximately £260.
The suspect is described as white, aged in his 50s with short dark hair and a medium build.
PC Amy Littledyke, of Northallerton Safer Neighbourhood Team, said:
I would like to speak to anyone who recognises the man caught on camera and ask that they contact the police or Crimestoppers as soon as possible.
Anyone who can help the police with their enquiries is asked to contact Northallerton police on 101, press option 2 and ask for Amy Littledyke.
Or call Crimestoppers anonymously on 0800 555 111 quoting reference number 12120033362.