Simon Cotton, the current President of Harrogate Chamber of Trade & Commerce, and General Manager of the Cedar Court Hotels in Harrogate and Bradford, ran the London Marathon for the first time last Sunday – achieving a very creditable time of 4 hours 23 minutes.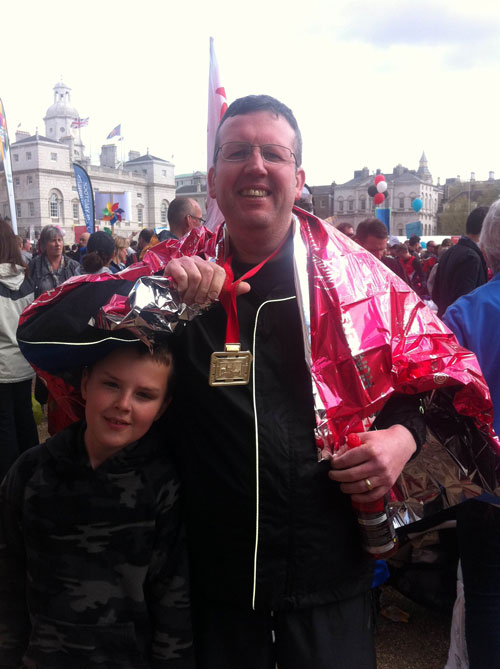 Simon Cotton pictured with his eldest son George immediately after the London Marathon outside Horse Guards Parade having just been presented his medal
Simon said he managed to keep to his planned pace throughout the race, having overcome severe injury to his right knee tendons and IT Band just 6 weeks before race day – thanks to his Physiotherapist Juliana Sampson of Room 4 Physiotherapy, Simon managed to keep some form of training going. "If it wasn't for the miracle work Juliana has performed with me in the last month or so I would never have been able to run the Marathon so I owe her a huge debt of gratitude" said Simon.
Simon was running in aid of Henshaws College for the Blind in Harrogate and he expects to raise close to £4,000 from this superb effort – on top of the total of £3,000 which he achieved for the Yorkshire Heartbeat Appeal by completing the Great North Run last September.
In addition to the many contributions from the Harrogate business community, Simon was generously supported by Karen Boswell, Managing Director of East Coast trains, who invited Simon to travel in first class comfort on their new direct return trains between Harrogate and Kings Cross for his long weekend run.
Simon's sons George and William welcoming him off the London train to Harrogate – showing his Marathon Medal alongside his Chamber President's Badge of Office 
Simon said:
The atmosphere on the day was electric.

Whilst it was hard work, especially from about mile 18 onwards when I could have easily stopped as the pain was really kicking in, the crowds in London were just fantastic.

At most points throughout the route they were 8 or 10 deep on both side of the road, all shouting encouragement and so many were handing out jelly babies and fruit segments, it is just hard to describe how much the crowd really does help you get round.

As well as my thanks to Juliana and Karen for their kind support, I also need to thank Sue Dobinson who helped me with my nutrition in the weeks building up to the event, ensuring I was in peak fitness on the day.

Lastly, but of course most of all, I have to thank all the very generous people who have helped me raise a great deal of money for such a worthy cause as Henshaws, I just can't thank everyone enough.