Chief Constable, Grahame Maxwell and Police Authority Chairman, Jane Kenyon officially opened the new Harrogate town centre base yesterday (23 April 2012)
It was identified some time ago that that the Harrogate police had outgrown their current location – the building was ageing and difficult to maintain, necessitating a move to maintain the level of policing needed in the area.
A strategy of a new, purpose built, main headquarters towards the outskirts of the town coupled with an easier to access, town centre base for the town centre team was then developed.
In Spring 2011 construction started on the new main Harrogate police headquarters on Beckwith Head Road and it is due to open in May this year.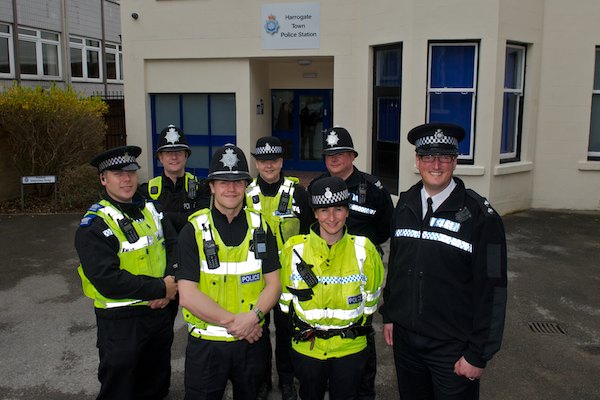 Part of the The town centre Safer Neighbourhood Team
Chief Constable Grahame Maxwell at that time also made a commitment that the force would retain a policing presence in the town centre. This was to give a much easier to access service to the general public.
After some searching, a site was identified which was then refurbished. The address of the news town centre base is:
The White House, Craven Lodge, 37 Victoria Avenue, Harrogate, North Yorkshire HG1 5PX (or next to the job centre)
The town centre station is approximately 100 metres from the current police station on North Park Road.
Police officers and PCSOs will work from the base 24 hours per day.
From 23 April – access for members of the public will be on a part time basis, on Mondays, Wednesdays and Fridays between 9am and 1pm.
Access will  increase over the coming weeks as services transfer from North Park Road.
Opening hours will eventually be Monday to Friday, 9am to 5pm.
Once the new Harrogate headquarters opens, there will be additional access at Beckwith Head Road.
At other times, 24-hour policing services are available by calling 101 or 999 in an emergency. North Park Road is currently open from 8am until midnight every day
The town centre Safer Neighbourhood Team will remain at Craven Lodge for the next three years with future plans being considered to team up with Harrogate Borough Council to share premises in the longer term.