Four Harrogate residents set off on a 3,000 miles drive around Europe in a £500 car in just four days next Thursday – 3 May 2012.
Andy Carswell, Richard Drury, Gareth Mills and Dan Barker are taking part in the Scumrun Rally to raise money for leading children's medical research charity Sparks. The charity is dedicated to funding and championing pioneering research into a range of conditions affecting babies, children and mums-to-be.
Dan Barker said:
All four of us are fathers of young children and so the charity is very close to our hearts. We're all great friends too although whether we'll still be talking after four days crammed into one car is another thing. Luckily we found a cheap Lexus 400 LS on Ebay so we're hoping it will be a reasonably comfortable ride for four large blokes.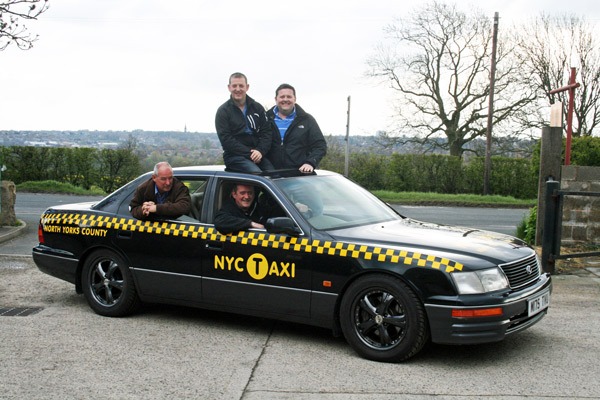 From left to right: from top Richard Drury, Gareth Mills, Dan Barker and Andy Carswell. The team chose to decorate their car as a New York Taxi in reverse – with yellow stickers on a black car instead of black stickers on a yellow car. The drivers have therefore named their car North Yorks County Taxi (NYC Taxi)
Not only are the entrants expected to squeeze into a car for four days they are also camping in unknown destinations on their travels. They will not know their journey details until they leave on Thursday 3 May.
So far the four have raised more than £2,000 and hope to raise even more at a quiz night they are hosting on Sunday 29 April at the Joiners Arms in Hampsthwaite.
The quiz is open to everyone. Entrants should be teams of four maximum at £1 per person with a case of wine to the winning team. There will also be a raffle on the night to help raise further funds.
Raffle prizes include a lifestyle Portrait Sitting by Scarlet Ribbon Photography, Afternoon Tea for Two at the Old Swan Hotel and a Bettys Hamper. The quiz starts at 7.30pm.
Donations & further info at www.justgiving.com/NYTaxi