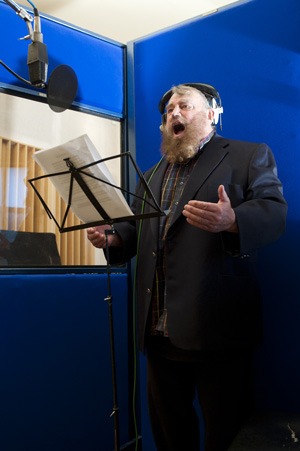 Welcome to Yorkshire are working with the Harrogate-based marketing and PR agency to breathe new life into the precious piece of cultural heritage and to introduce "On Ilkla Moor Baht 'At" to a younger, global audience.
The new song will feature a rap by Yorkshire born Brian Blessed and an appearance by the Grimethorpe Colliery Band.
News of the song was announced at Welcome to Yorkshire's Y 12 conference, the UK's largest tourism event.
This latest version of "On Ilkla Moor Baht 'At" is being recorded by Grammy award-winning songwriter and producer, Eliot Kennedy. Sheffield-based Mr Kennedy is the Producer for Artist Development on ITV's The X-Factor. He is also currently working on a song with Take That's Gary Barlow for The Queen's Diamond Jubilee.
Mr Kennedy said: 
When people interview me, they always ask me about Gary Barlow. We've been close friends for more than 20 years – ever since we wrote 'Everything Changes' together. Now, finally, I've done a project that puts my work with Gary in the shade – now I've got Brian Blessed to rap to "On Ilkla Moor Baht 'At.
Legendary Flash Gordon star Brian Blessed lends his booming vocals with a rap that promises to shout loudly with Yorkshire pride. Blessed, who currently features as the Pirate King character in The Pirates! An Adventure with Scientists, said: "When I was offered the opportunity to record On Ilkla Moor Baht 'At with a twist, I thought, that's me! The version of the song is a larger than life take on a traditional classic and I am singing for Yorkshire, loud and proud. My vocal chords are renowned across the nation and I hope Yorkshire and the rest of the world will sit up and take notice of this valuable piece of Yorkshire heritage. When you have pride in your roots, there's nothing more fun and joyous than singing about it. Enjoy! And don't forget your hats!"
The song is currently in production and should be ready for release early in the summer. It will be accompanied by a short film which is due to be shot on Ilkley Moor in May. Cause UK has invited Rock Up & Sing – Harrogate's first choir of rock – to take part in the film. Rock Up & Sing is also due to appear at a special gig, Simply Rock Up & Sing! 2012 at the Harrogate International Centre on 7 and 8 July.
Clair Challenor Chadwick, MD of Cause UK, said:
The story originated with school teacher and Otley Brass Band musical director Gordon Eddison who reported that less than 10 per cent of school children knew the song and so a crusade by Cause UK was launched. It generated a wave of publicity across the UK at the end of 2011 and the idea of revisiting the song just seemed to caputre everyone's hearts and minds.
Grimethorpe Colliery Band, which famously featured in the movie "Brassed Off" has also recorded a section and other organisations in various parts of Yorkshire will make contributions in April.
Welcome to Yorkshire chief executive Gary Verity said:
On Ilkla Moor Baht 'At" has long been considered Yorkshire's national anthem and we just couldn't resist giving it a modern twist. Like everything we do, the song is a chance to shout about what's great about Yorkshire but it's not just about Yorkshire traditions or nodding our caps to our cultural heritage, it's also a chance to show off Yorkshire's vibrant creative scene with a re-working of the song with 'added swagger'.
Mr Kennedy added:
There's something robustly cheerful, hearty and wilful about the song that really captures the Yorkshire spirit. My hope is I've added a swagger to the song, but still paid homage to the traditional version. It's a loving take on the song and one I hope brings it alive to new generations of Yorkshire kids and the spirit of fun it inspires.
Cause UK recently were 'Highly Commended' at the recent Ackrill's Business Awards.
A social media campaign has been launched and they are urging all fans of Yorkshire to go online and show their support on Twitter @yorkshireanthem and via the fan page: www.facebook.com/Yorkshireanthem