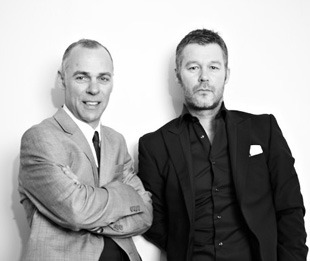 Directors of the Westrow hairdressing group, Marc Westerman and Steve Rowbottom, celebrated 25 years in business on 1 April 2012 – 25 years to the day that they opened their first salon in the Victoria Quarter in Leeds. To mark the occasion, the directors held a huge celebratory event in the opulent setting of Aspire, Leeds, where more than 300 people including staff, industry names and members of the press gathered to mark the occasion. The night was a true celebration of the businesses longevity and evolution through a tough financial climate, but one that has seen the brand survive two recessions, while expanding to seven salons with more than 100 staff. The brand is focusing on further expansion plans, with an academy and three more salons in the immediate pipeline.
 Director Marc Westerman:
Celebrating 25 years in business is a wonderful feeling.

We have been through some tough financial times over the years, but have stayed strong, which is testament to our enduring business partnership and vision for the brand.
Steve Rowbottom: 
Recognising our loyal staff and franchisees at our event was very important to us.

They have been with us every step of the way. Some of our staff have been with us for 20 years, and have evolved as the business has grown, and for that we are truly grateful.
Westrow Harrogate staff get ready to party
The night started with a champagne reception sponsored by Kérastase, with canapés including Yorkshire's finest fish and chips. Guests were then treated to a retrospective of Westrow's finest hairdressing moments throughout the last 25 years, as well as an insight into the future of the brand and its imminent Academy launch. The party then truly got started with Ibiza favourite, nightclub percussionist Michael Fish ensuring guests could party through until the early hours.