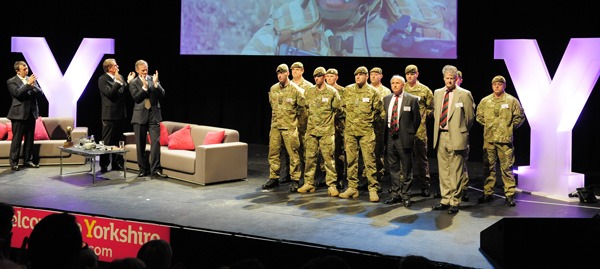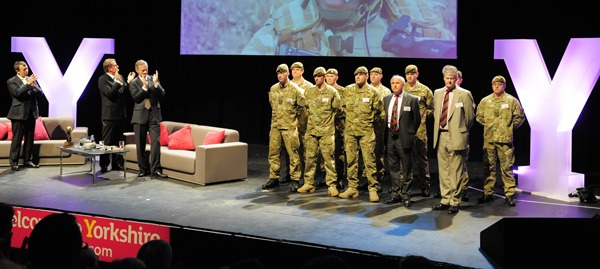 The Yorkshire Regiment received a standing ovation as they launched a new scheme to promote Yorkshire worldwide by harnessing the power of its patriotic people.
Yorkshire Champions was one of a number of initiatives announced at the UK's largest one day tourism event, Y 12 – attended by almost 1,500 people at the York Barbican – to celebrate the strength of Yorkshire's tourism industry and the achievements of Welcome to Yorkshire.
Members of the North of England's infantry regiment took to the stage to receive their Yorkshire Champions "Y" badges before the scheme was officially opened to patriotic people living in the county and those overseas to declare pride in their Yorkshire roots. Yorkshire Champions will receive special offers and be able to wear their "Y" badges with pride.
The rallying call to the county didn't stop there – a Back le Bid campaign was launched to encourage Yorkshire's 6 million residents to get behind Welcome to Yorkshire's bid to bring the Tour de France to the county in 2016, ahead of a visit by the Tour's organisers in May this year.
Star sprinter Mark Cavendish helped launch the bid and supporters are encouraged to join an online petition at www.yorkshire.com/backlebid declaring their support for the bid, which if successful, will be the first time the Tour has visited Yorkshire.
These initiatives formed part of Welcome to Yorkshire's five year business plan to grow the Yorkshire brand worldwide, which were unveiled to those attending Y 12, including the Minister for Tourism and Heritage John Penrose.
Clare Morrow, chair of Welcome to Yorkshire, said:
Today was a really important day, to be able to tell everyone that Yorkshire has a great future and that Welcome to Yorkshire will continue to lead from the front in shaping that future. We all need to pull together, get behind Welcome to Yorkshire and we can continue to do great things as a county.
Gary Verity, Chief Executive of Welcome to Yorkshire said:
We have a five year plan to keep Yorkshire as high profile as ever and with the support of the industry and our patrons worldwide we will continue to ensure Yorkshire has a loud and credible voice on the global stage.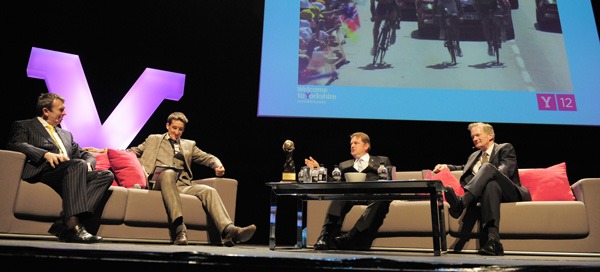 In a Question Time format hosted by the television presenter Rob Walker, Welcome to Yorkshire also revealed its new prime time television advertisement, sponsorship of television programmes, a huge marketing campaign in London and Manchester, a David Hockney Trail and news that the Yorkshire garden at the Chelsea Flower Show will be called The Brontës' Yorkshire Garden.
The aim is to continue the growth in the number of visitors to Yorkshire which over the last 3 years has consistently outperformed other parts of the UK.