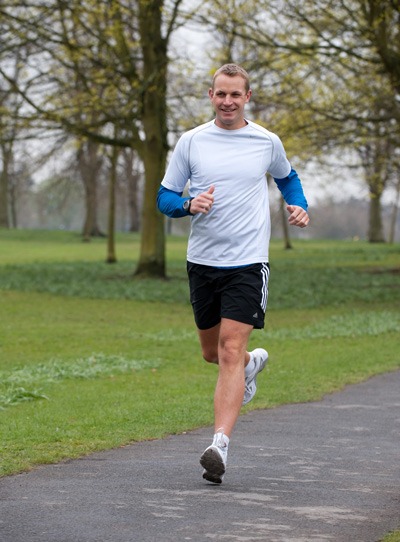 Local Businessman Nick Lawson is taking to the treadmill this Easter weekend to raise money for close friend Shannon Davis.
Over two days Nick and his team of supporters will set up a treadmill and exercise bikes in Harrogate's Waitrose store and outside Pitcher & Piano in John Street, with the aim of running and cycling 100 miles over the eight hours. There will also be opportunity for supporters to take part on the day.
Nick has set himself the challenge of running the 190 mile Coast to Coast route in just four days in May this year to raise money for Shannon. Joining him on the four day challenge are friends Andy Gibbon and John Hartley who will be cycling the route alongside him and acting as a support crew.
American born Shannon is undertaking further stem cell treatment in India after being paralysed following a near fatal car crash in 2007. In 2010 Nick ran four marathons in three weeks to raise money for Shannon's second trip to India where she took her first steps since the accident.
Nick Lawson said: 
We are all very excited about this Easter weekend challenge. We have had a huge amount of support so far, from Nuffield Health and Wellbeing, donating equipment for the weekend to people giving up their time to help us. It would be great to see as many people down there as possible cheering us on and supporting us.
Supporters can catch Nick and his cycling companions at Waitrose on Friday 6 April and outside the Pitcher and Piano on Saturday 7 April from noon to 4pm both days.
Keep up to date on Nick's progress by 'liking' his Facebook page www.facebook.com/Coast2Coast4Shannon. To donate money and sponsor Nick please visit www.active.com/donate/coast2coast4shannon and for more information on Shannon's story please visit www.shannondavisjourney.com