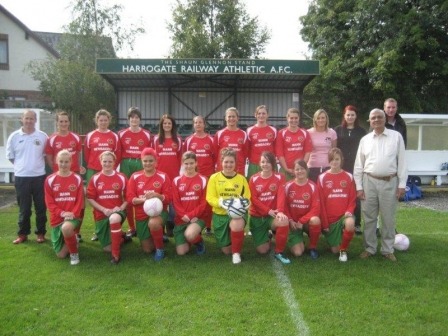 Harrogate railway ladies were away to Hemsworth miners ladies today and came away comfortable winners with a 0-3 score.
It took only 2 minutes for Railway to open the scoring with a pass from midfield finding Nicola Hadley who did a fine turn and place the ball into the bottom left corner 0-1. Railway wanted to put this game to bed early and put even more pressure on Hemsworth passing the ball around, finally playing it out wide to Sandra Clark who crossed in and Jodi Hodgson was there to volley in another great goal 0-2and only 7 minutes gone.
Hemsworth had a couple of chances going one on one with stand in keeper Cat Swinne, but were unable to beat her, Railway dominated the whole game generally, with good passing skills and team work. On the 43rd minute Hemsworth gave away a free kick just outside the box , Dee Swales steped up and sent in a cracking shot bending to the right and into the top corner 0-3.
After half time railway searched for the fourth goal but Hemsworth were camped in there own half only breaking out 3 or 4 times, this proved difficult for Railway to break through, player of the match Jodi Hodgson worked hard in the middle feeding the ball wide and making good chances for her team mates but as the clock ticked down things went a bit flat and so it was light relieve when the final whistle came.
Next week Railway travel to Keighly in a much more tricky game.