Yorkshire based leading PR agency, Acceleris, is celebrating after winning the Not for Profit Campaign of the Year category of the inaugural Public Relations Consultancy Association (PRCA) Golden Hedgehog Awards for its 'Celebrations of the Sea' project on behalf of the Shipwrecked Mariners' Society.
The world's first photography exhibition underwater, 'Celebrations of the Sea' was created and delivered by Acceleris on behalf of the charity, which is one of the oldest in the country and supports retired seafarers facing financial hardship.
The unique, national exhibition, sponsored by canned seafood manufacturer John West, was displayed in living aquariums in Sea Life Centres across the UK and featured celebrities and every day people connected with the sea photographed carrying out their 'day job' but underwater.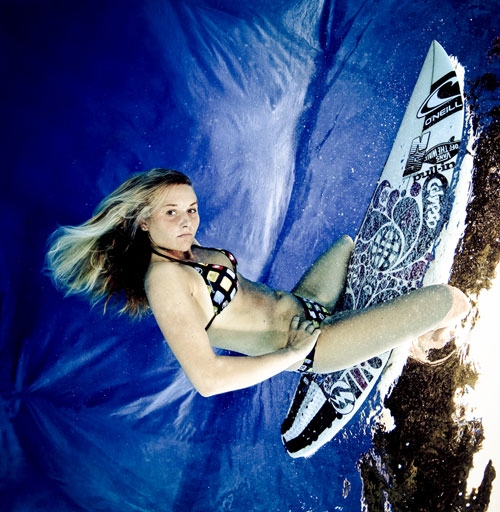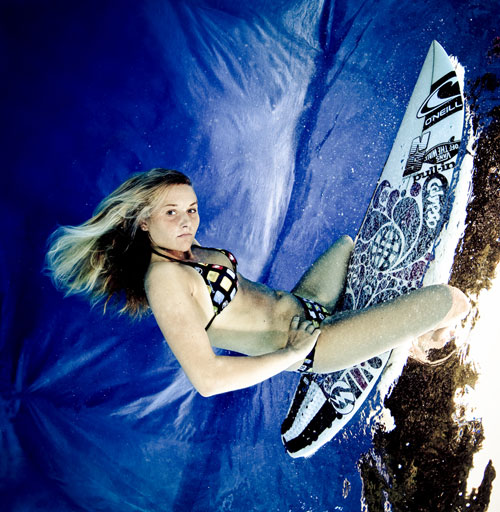 UK surfing champion Tassy Swallow featured at the event
Celebrities and personalities including TV historian Dan Snow, TV chef Mitch Tonks – one of the leading seafood chefs in the UK, Countryfile presenter Ellie Harrison, world champion cliff diver Gary Hunt, UK surfing champion Tassy Swallow, along with one of the Society's Skill and Gallantry Award recipients, helicopter winchman Dian Lacey, all featured in the exhibition, designed to showcase Britain's reliance on the sea.
Louise Vaughan, Director and Head of PR at Acceleris Marketing Communications, said:
At Acceleris, we always strive to deliver high quality, cost effective integrated communications campaigns for all our clients.

From conception to evaluation we successfully delivered a project which has received national recognition from the media and resulted in a significant uplift in awareness and donations to the charity. This award is testament to the hard work, imagination and commitment of our team and we are very proud to have our campaign recognised nationally.

The project was promoted through both online and offline activity which saw the charity profiled across national media including ITV's Daybreak, OK Magazine, the Metro, BBC Online and the London Evening Standard, reaching a total offline audience of seven million people and being heralded by The Guardian as "beautiful", "well thought through" and "highly innovative.
Malcolm Williams, Chief Executive of the Shipwrecked Mariners Society said:
We appreciate all Acceleris' efforts in pulling together this fantastic initiative over many months and it was worth it. The publicity generated has gone a long way to raising the Society's profile with our current supporters and has been instrumental in encouraging new ones.

The exhibition was a fantastic way of celebrating Britain's continuing reliance on the sea and those people who work with it. It is often overlooked, but 95 percent of all imports and 75 per cent of exports are still transported by sea, with the £56 billion UK maritime sector – more than aerospace and agriculture combined. The sector directly employs over 410,000 people which is why our work – particularly in the current economic climate – continues to be so important.
Between 2010 and 2011 the Shipwrecked Mariners' Society made regular and one-off grants in 2,644 cases to retired seafarers and their families, amounting to over £1.5 million nationally.
The Golden Hedgehogs recognise 'outstanding campaigns and exceptional talent' within the PR industry and feature 20 categories, plus a Golden Hedgehog Award to reward the winner of winners and a Hoglet Award to celebrate outstanding young communicators.
This win follows a string of recent appointments for the agency including Bauer Media, Bradford based Tong High School and Yorkshire charity Children's Heart Surgery Fund, which is currently fighting a decision to close the specialist heart unit at the Leeds General Infirmary. The 'Celebrations of the Sea' project has also been shortlisted for a Drum Marketing Award for PR Campaign of the Year to be announced at a ceremony in London in May.
For more information on Acceleris visit www.acceleris-mc.com