Harrogate railway ladies beat Huddersfield Town 3-1 on 18 March 2012 in the League cup semi-final.
Huddersfield put out a very young, but talented squad in order to try and beat Railway who have only lost 3 games all season, however Railway set out with a fast tempo and in the first 10 minutes forced 5 corners. Huddersfield crowded the box with 10 players making it hard for railway to score, with this in mind railway won another corner at the 17th minute, Dee Swales was alert to do a short corner to Issy Rowe who crossed in and Hannah Campbell raised above the crowd and headed in to the far corner, 1-0.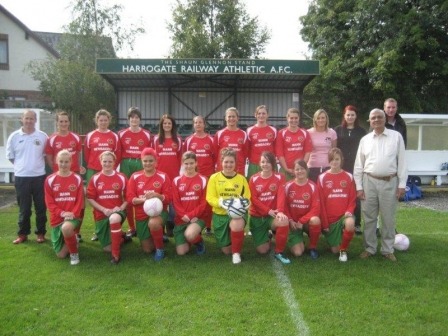 Huddersfield tried hard to reply but on each attack found the Railway back line, Emma Lansdall, Cat Purvis, Issy Rowe and Ali Purvis too good to beat and so the counter attack came time and again for rail but they failed to convert all the pressure into a goal.
After the half time talk Railway picked up where they finished putting immense pressure on Huddersfield forcing mistakes in their defence and on the 55th minute midfielder Jodi Hodgson put a great pass through for Dee Swales to latch on to and drive the ball into the corner 2-0.
Railway were on top of the game and only 2 minutes later, again play maker Jodi put in a lovely cross for Dee to volley a great goal 3-0. Huddersfield were reeling from these two quick goals but all credit to them held on for the next ten mins and managed to put some shots on rails goal. It was on the hour when railway shut off for a moment and allowed Huddersfield through for a shot and beating the railway keeper to make it 3-1.
The rest of the game was played out with railway keeping good control until the final whistle; Railway Ladies have now for the first time in their history, booked a place in the final. Well-done to them all for a great achievement.
Next week they are away in the league against Hemsworth Miners Ladies.