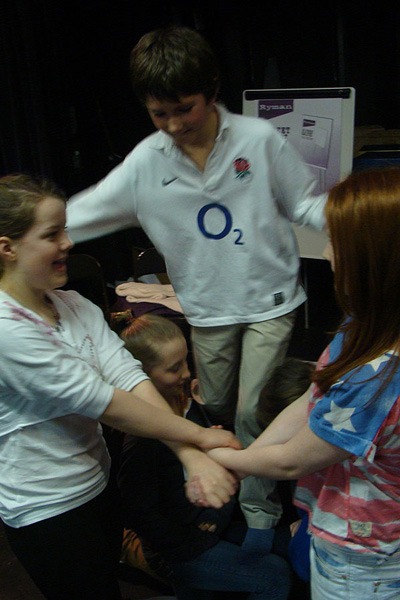 This month, Harrogate Youth Theatre (HYT) are getting fired up about the 2012 Olympics, by working on series of devised performances using the Olympian motto: Swifter, Higher, Stronger (or Citius, Altius, Fortius in Latin) as its title. As the Olympics looks set to take centre stage this summer in London, Harrogate Theatre will host three youth theatre groups (aged between 12-14) performing three seperate pieces of theatre, based on three historic eras of the Olympics: the Greeks (the performance Swifter), the Victorians (the performance Higher) and modern day (Stronger) from Thursday 22 – Saturday 24 March. Swifter, Higher, Stronger is one of Harrogate Youth Theatre's most ambitious projects to date, as it is the first time that all three (12-14) youth theatre groups have worked on a singular project together. Hannah Draper, Education Workshop Leader decided to work with young people on these performances exploring the illustrious history and story of the Olympics, which has been an almost constant event since the Modern Olympics started in 1896. 
Hannah Draper said:
The performances are based around certain pivotal moments in time that led to the Olympics being staged in London thisyear – an event few of us expect to see again in our lifetime. It makes sense in a year when our athletes are being encouraged to go the extra mile that as a Youth Theatre we do the same and give more young people the opportunity to take part and create a show of their own.
The show itself is written and devised by the Youth Theatre members themselves, founded on an extensive research period into the history of the Olympics, followed by rehearsals and group work. Each group were given a box of stimulus material to help them in the process of putting together the performance, which adds an extra unique offer to the work.
Hannah Draper added:
Each night you'll see two of the three performances created all of which are owned by the young people taking part but very different from each other.
James Fox, who has been an HYT member for 5 years, enthused about the process of devising the show.
James Fox said: 
We get a bit of freedom in devising work… there's a sense of mystery as in you don't know quite what you're going for, you sort of make it up as you go along which is really fun." Anna Sharp, another HYT member, maintains that the subject matter of the show is still very much important to young people: "I'm quite excited about the Olympics being in Britain, it's a once in a lifetime thing. Sport helps a lot of people in our society, it helps morale and passion for the country. It's really nice to perform a play that is relevant to now; people of all ages are interested in the Olympics, especially young people.