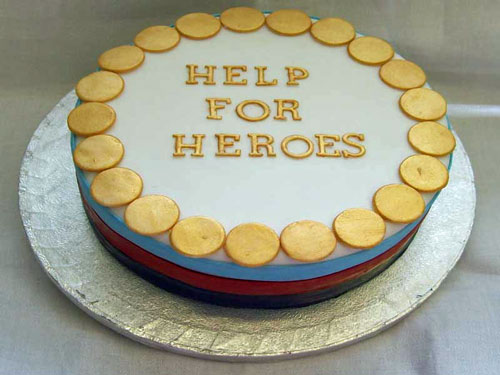 Harrogate creative agency, Raw Creative Ltd will be telling shoppers to 'Keep calm and eat a cupcake' on Thursday 5th April at their first annual Colossal Cake Sale!
The team of designers and PR professionals will be stationed on the piazza outside the town's Victoria Shopping Centre from 11.30am to 2.30pm selling baked goodies in aid of military charity Help for Heroes.
The sale aims to raise over £500 for the charity, which gives invaluable support to wounded servicemen, servicewomen and their dependents. All funds will go towards the Phoenix House Personnel Development Centre at Catterick Garrison, which opened in 2011 and aims to rehabilitate wounded servicemen and women in the North of England.
The Colossal Cake Sale is an annual initiative from Help for Heroes, which sees cake stalls pop up across the country between 26th March and 7th April. Fans of all things sugary, the Raw Creative team decided to join in the fun and host a sale in association with the Victoria Shopping Centre. Young soldiers from Harrogate Army Foundation College will also be on hand to sample the baked goods on offer and meet charitable cupcake lovers!
Raw Creative Managing Director, Kirstyn Pollard said:
We are delighted to be hosting a Colossal Cake Sale right in the centre of Harrogate! Help for Heroes is a charity the team holds very close to their hearts and this seemed like the perfect opportunity to help at a local level. Facilities like the Phoenix Centre are essential in maintaining the welfare of our military personnel and it is essential we have centres like this in the North of England as well as in the South. I hope locals will help this very worthy cause whilst buying something tasty!
Victoria Shopping Centre Centre Manager, David Horth added:
Harrogate has a very strong military connection so we were only too pleased to be able to partner up with Raw Creative for their cake sale. I hope shoppers will support the sale by baking a cake to donate or even better, by buying something delicious to enjoy over the Easter break, What better excuse to treat yourself and your family to something deliciously indulgent!
The Raw Creative Team
If you would like to bake a cake to donate to the sale, Raw Creative is accepting donations from Wednesday 4th April. You can call into their office at 17, Albert Street Harrogate or bring your baked goods down to the sale itself on Thursday 5th April from 10am.
To find out more about what Raw Creative can do for your business, contact the team on 01423 538497 or e-mail kirstyn@rawcreativeltd.com. You can also visit the website at www.rawcreativeltd.com