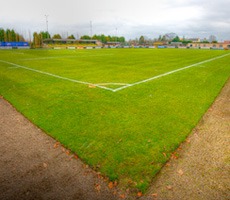 A sensational first half at the CNG put Town on the path to their first ever victory over Corby.
Harrogate, missing Jake Picton and Paul Heckingbottom through injury,and Laurie Wilson who is on a business trip, gave starts to Matt Bloomer and Alex Meechan and introduced new loan signing Tom Platt from York City.
Paul Malone's foul on Rob Youhill gave Town an early free kick,which saw Fabian Spiess turn Paul Brayson's attempt for a corner. Chib Chilaka made his first contribution in the match when he headed Youhill's kick wide. Corby's forwards were looking dangerous and Bloomer did well to block Tyrone Amory, while Andy Hall broke down the right, but curled his shot wide.
Tom Platt was making an impressive debut, firstly firing Craig Radcliffe's pass over the bar and then,after 14 minutes,heading in Radcliffe's corner, to open the scoring.
Harrogate's joy was short lived, as almost immediately Corby broke down the left and Delroy Gordon powered home a header which Mark Cook scooped out, only for the officials to rule that the ball had crossed the line.
Sensationally,Alex Meechan broke through the middle from the kick off to restore Town's lead and then two minutes later,he provided the pass from which Chib Chilaka beat Siess with a low shot to make it 3-1.
Remarkably, there had been four goals in five minutes and the excitement wasn't yet over, as the resilient Steelmen countered down the left and Tyrone Amory beat Cook with a low angled drive.
Both sides through caution to the winds as they concentrated on all out attack.
Stephen Towers shot wide and Amory blazed a free kick over for the visitors, but after 39 minutes,Youhill fed Chilaka,who cut in from the right and gave Spiess no chance with low cross shot.There was still time before the interval for the industrious Paul Bolland to get on to the score sheet when Paul Brayson's shot was diverted to him and he rifled home from the edge of the area.
Business as normal was resumed shortly after the break,when Bolland and Youhill combined to set up Platt, his centre was bundled home by Chilaka,only for it to be ruled out by an offside flag.
However,on 58 minutes Chib's well deserved hat trick arrived,courtesy of Jean-Paul Dossay's foul on Platt in the area.
Spiess brilliantly saved Chib's penalty, but Chib was the first to react to the rebound to make it 6-2.
The rest of the game was an anticlimax, although Alan White headed in close on time only to be ruled out for pushing.
The only disappointing part of the night was that only 175 turned out to watch a classic.The stay at homes missed a treat.
Harrogate Town 1 Cook 2 Bloomer 3 Radcliffe 4 Platt 5 Pell 6 White (c) 7 Youhill 8 Bolland 9 Brayson 10 Chilaka 11 Meechan
Subs14 Turl 15 Elam 16 Clayton 17 Beesley 18 Emmett 15 Elam rep Pell 54mins
Scorers Platt 14,Meechan 17, Chilaka 19,39,58,Bolland 44 Booking White