A 200 year-old oak tree has fallen in Jacob Smith Park in Scriven, near Knaresborough and has revealed a nest of over 6,000 honeybees.
The 30 acres of walled parkland opened in January 2008 after being bequeathed for public use by Miss Winifred Jacob Smith. The parkland, which is managed by Harrogate Borough Council, has a number of ancient trees and it is not known why this magnificent oak tree fell as there had been no strong winds recorded at the time that it failed or any decay fungi identified as part of the council's survey programme. The most likely cause of failure was probably due to underground root decay not visible from ground level.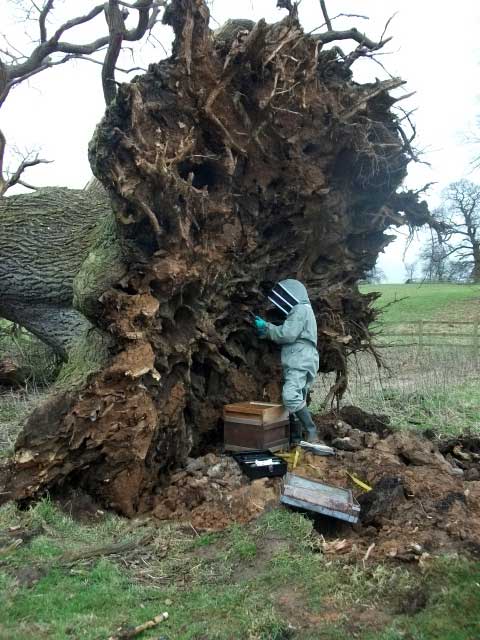 After the tree had uprooted, a local resident noticed the nests and contacted Mr Chris McDevitt of the Harrogate & Ripon Beekeepers' Association. This proved to be a wise move as the bees would not have survived if left unchecked and the important hive would have been lost. Chris 'smoked' the beesto make them extra docile and they are now residing at a new hive back in his apiary. Chris is not sure if he has the queen but he will find out over the next few weeks. If she isn't there, then he hopes that the Jacob Smith Park bees will bond with others in his apiary.
Like other ancient trees in the parkland, this oak tree was fenced off for protection and Paul Casey, Harrogate Borough Council's Arboricultural Manager, says his team will do some work on the fallen tree. Paul Casey added:
Some of the roots may still be attached, so it may still sprout leaves on the remainder of its live branches. Time will tell. And if it doesn't, it's still a fantastic piece of important habitat within the park.

"These trees are irreplaceable in anything but the long term, but at least if we allow the bulk of the tree to slowly decay overtime on site, it will remain immensely ecologically valuable for years to come and maybe provide an ecological link through to the next generation of veteran trees. This potential continuity of the ecology beyond individual mortality of trees is one reason why groups of veteran trees, such as we have at Jacob Smith Park, are so especially valuable.

The tree did break some of the fence rails and we will get these repaired working with the Friends of Jacob Smith Park.
Honeybees play an important role not only for their ability to produce honey but they pollinate a number of farm grown foods, including many fruits and nuts. Honeybee populations world-wide are worryingly in decline so it was important that this hive was saved and the council and Friends of Jacob Smith Park would like to thank Chris McDevitt for his support.