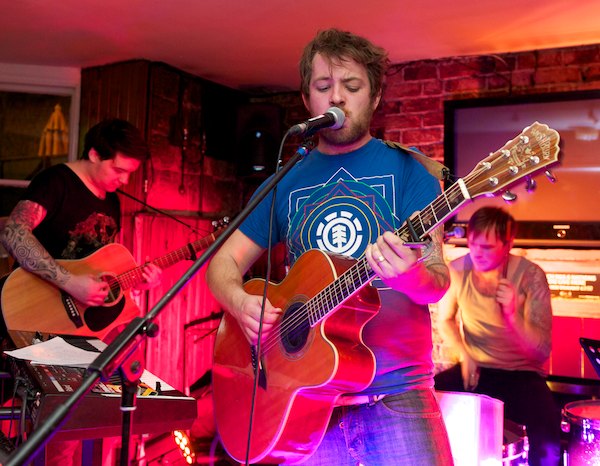 Kasiuss played to a near capacity audience at Christies in Harrogate yesterday evening (2 March 2012). This was an acoustic set with Biz Denton on lead vocals/ guitar/ keyboards, Adam Odle on guitar, Joe Bothamley on drums with, most recent band member Dan Mizen on ukulele.
The guys played three sets over the evening, featuring new and older material, but finishing with a set mainly of covers. The older material  included Wonders Prevail and The Devil's Got Your Soul. Covers included like Dakota by Stereophonics, Missing by Everything But The Girl and Killer by Seal.
The night also featured new material including, Midnight Blues, Give Me Seasons, Queen Of Nothing and Terrible Thing.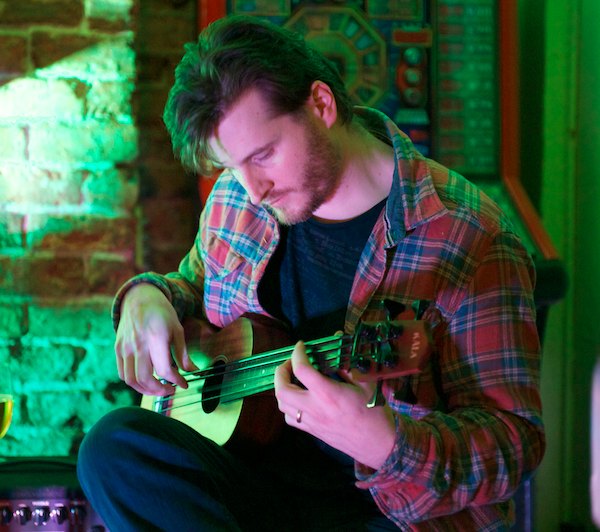 Lucy Mizen joined the band for a cover of an Adele song, Rolling in the Deep. Lucy took centre stage with Biz taking what looked like for him an uncomfortable off-centre place. Lucy delivered the vocals with confidence and the power it needed.
The band played with confidence and entertained. Biz's vocals were strong and had real depth. There was significantly more energy coming from the band during this gig than there had been at the previous gig at Monteys, especially during the second set of the night when the band had really warmed up.
The most recent addition to the band, Dan Mizen (pictured) wasn't really given a chance to shine. It will be interesting to follow Dan through to a full band performance that is not just acoustic. I suspect Dan is finding his place in the band and has much to offer.
Drummer, Joe Bothamley said:
The gig was so much fun. Dan has really settled into the band now, and everything felt like it was in the right place, which is a good feeling as it means we can just focus on the music and delivering it as best as we possibly can.
To be able to watch a band of this quality for the price of buying a drink is a real steal. You do however sense with the band that they are continuing on a journey, and as with all journeys that will be taking them somewhere different. Following them on this journey creates part of the appeal.
On Thursday, 8 March they are playing the much bigger venue of the Alex as a full band. The band have performed regularly at the Alex and always attract a crowd, catch them if you can.
www.kasiuss.com