Local Vauxhall retailer, Nidd Vale Motors, who has been servicing customers for over a century, recently put Stray FM breakfast show host Nick Hancock through his paces at their dealership in Harrogate.
The local DJ was given the opportunity to experience a 'Proper Day's Work' at Nidd Vale, learning the ropes at one of the best-known retailers in Yorkshire.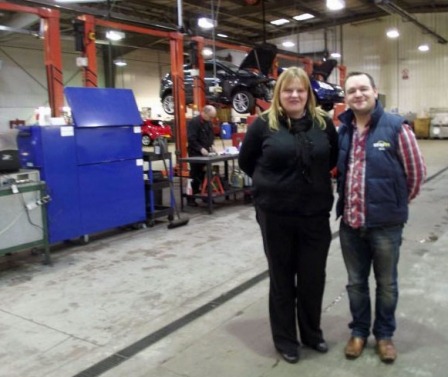 Nick comments:
We run a feature on the show where I get sent to various places of work to see what it's like for a 'proper' working professional, and when I was approached by Nidd Vale, I jumped at the chance to go, as the retailer is such an important, independent business in the local area.

While I was there I shown the ropes of the service department and workshop, and given an insight into all the work that the team puts in – it was a lot of fun, but hard work too! The team were extremely welcoming and I'd definitely recommend the retailer as a place to go for all your motoring needs.
The retailer, with sites in Harrogate and Wetherby, has been long-established in the area for more than 90 years, and is proud to be going from strength to strength as an independent motor retailer in the currently difficult economic climate.
Paul Wigglesworth, Sales and Marketing Director at Nidd Vale Motors, comments:
As I'm sure everyone is aware, times have been extremely tough recently, but here at Nidd Vale we're proud to be able to consistently offer our customers the best quality of service and highest standard of customer satisfaction.

We have a team of highly skilled and trained experts of the motor industry here at the retailer, many with over 20 years of service, so we're confident we can help every customer. Whatever your query, I'd like to encourage everyone to come down to the retailer and see what we can do for you.