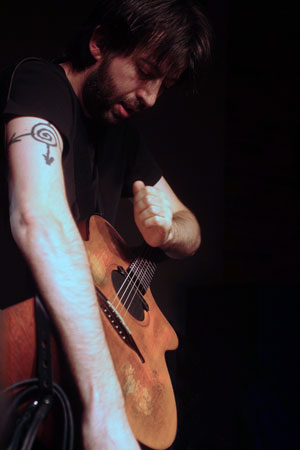 Jon Gomm plays a guitar called Wilma, but in a way that is truly engaging. The guys at Ont' Sofa have pulled off a bit off a coup as he has agreed to record with them for an Ont' Sofa session. Wilma is used create drum sounds, basslines and melodies – all at the same time.
Jon is growing a reputation for  being an influential musician of his generation, an exponent of a unique style. Previously studying in Leeds but now touring and playing widely to a huge cult following.
He is also relatively rare in the industry where he refuses to sign a record deal with any label and self releasing albums instead.
Ben Davis of Ont' Sofa said: 
To say we are pleased to have Jon join us Ont' Sofa is an understatement. He has completed a number of TV appearances and he is a huge talent.

We are recording with him on Sunday so watch out for the video on-line towards the middle of the week.

I am going to be looking forward to this all weekend!