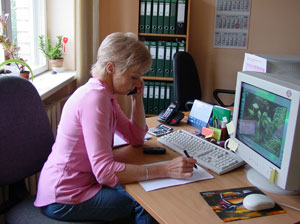 Learndirect are urging jobseekers to get to know the skills needed to get ahead at work.
Learndirect is an e-learning organisation and was set up by 'Ufi' (University for Industry). In 1998 the Government gave Ufi the task to provide high quality learning for adults. In Autumn 2011 Ufi Ltd was sold to LDC, part of the Lloyds TSB Banking Group.
In the past ten years learndirect has become a nationally recognised brand for learning with the largest e-learning network of its kind in the world.
88% of employers rate workplace skills as a top priority, yet only one in ten jobseekers in Yorkshire and Humber consider them important
Nearly a quarter (24%) of unemployed jobseekers in Yorkshire and Humber say they don't know how to create a good impression in interviews and 42% of employers say the majority of interviewees fail to impress
38% of jobseekers in Yorkshire and Humber feel let down by the formal education system as it did not prepare them for the job market
According to Learndirect, Jobseekers in Yorkshire and Humber need to brush up how they come across to people and make sure they can work with others to give themselves the best chance of getting a job. New research from learndirect shows employers rate being able to blend in effectively at work as a crucial skill when they recruit new staff.
Just 10% of jobseekers in Yorkshire and Humber think these skills are important to have when starting work, even though 88% of employers say they are a top priority.
Now Business Support and Development in Harrogate is urging people to make sure they are confident they come across well and their maths and IT skills are also up to scratch.
Emma Holdsworth, Regional learndirect Manager at Business Support and Development says more people need to think carefully about the skills employers are actually looking for rather than assuming they know already.
She said:
Most people probably think they have the skills to do well at an interview and be competent in a job from day one. What this research shows is this is just not the case. Employers are looking for people who can fit in and get on with the job from the very start.

Today's job market is incredibly tough, we all know that, and people should be thinking about what they can do to stand out from the crowd. One crucial thing is to make sure their skills match the expectations of the employers they are approaching. Without those they are going to really struggle to make an impression.

We are here to help and, by getting in touch with learndirect, people can start on the road to a successful job hunt straight away.
Other findings from the research include:
Poor first impressions: jobseekers are failing to impress at the interview stage, 24% of jobseekers in Yorkshire and Humber don't know how to create a good impression
Back to basics: jobseekers need to brush up on their basic skills: 38% of jobseekers in Yorkshire and Humber say poor spelling is the area they have been criticised for the most in previous jobs, whilst 56% of employers rate proficiency in English as a top priority when recruiting
Job preparation: jobseekers blame the education system for letting them down with 38% of jobseekers in Yorkshire and Humber and 37% of employers say schools and colleges need to better prepare students for the job market.
This new research was conducted as part of the learndirect Make it Count campaign, which aims to encourage people to learn new skills and get the qualifications they need to improve their job prospects. The findings from the research lend support to recent calls from industry to introduce workplace skills training to the school curriculum.