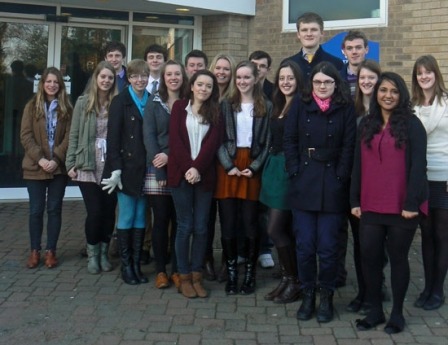 This year there were 46 applicants for places at Oxford and Cambridge across the Associated 6th Form. This year we have had 18 offers (6 from Oxford and 12 from Cambridge).
18 offers is equal to our best-ever total from 2010-11.
The school is naturally delighted with this result, and would like to congratulate the students on their outstanding achievements. It reflects not only their hard work and impressive academic ability, but also the efforts of their teachers,  who have enabled them to compete against the finest academic minds in the country.
Oxford (6)
St Aidan's students
• Zoe Cuckow (St Hugh's), Archaeology and Anthropology;
• Anna Cuckow (Worcester), Geography;
• Risham Nadeem (University), History;
• Louisa Adams (Keble), Geography;
• Lisa Staniforth (History), St Catherine's.
St John Fisher student:
• Matt McGonagle (Pembroke), History;
Cambridge (12)
St Aidan's students:
• Rosie Topham (Newnham), Asian & Middle Eastern Studies;
• James Brown (Trinity), Economics;
• Tilly Scullion (Clare), English Literature;
• Alice Spencer (St John's), Medicine;
• Natalie Clark (St John's), PPS;
• Clare Lewis (Clare), Natural Science;
• Douglas Robinson (Jesus), Physics;
• Rachael Shannon (Newnham), Natural Science;
• John Staunton-Sykes (Newnham), Natural Science.
St John Fisher students:
• Vittorio Downing (Churchill), History;
• Alex Greenwood (Homerton), Education, English Lit & Drama;
• Louis Durkin (Selwyn), English Literature;