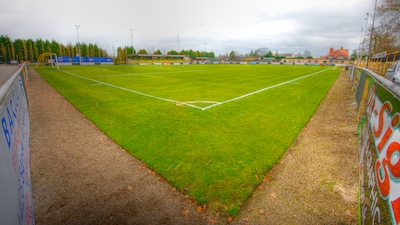 Town gave a start to new signing,central defender, Patrece Liburd and he was soon in action conceding an early free kick which Kieran Walmsley fired at Mark Cook.
At the other end Walmsley rescued Alty after Paul Brayson had beaten keeper Adam Reid to a through ball.
With a strong wind in their favour the Robins pressed Town and Cook did well to keep out Jack Redshaw's free kick,before Adrian Hawes side-footed over from a corner.
Alty took the lead after 13 minutes when Simon Richman's right wing cross was turned in by Damian Reeves.
Reeves made it two in the 25th minute when James Lawrie's corner was only half cleared and Reeves stabbed in the bouncing ball.
Town, with Rob Youhill prominent,began to make an impression and a mix up in the home defence almost gave Town an own goal.
A minute later Mark Lees flattened Jonny Allan and Brayson drove in the resulting penalty.
Five minutes after the break Town skipper Michael Brough limped off injured to be replaced by Stephen Turnbull.
Turnbull's first touch was a through ball which Hawes failed to cut out and Brayson raced through to chip Reid and make it 2-2.
Hopes were high that Town, with the elements in their favour would snatch a win,but two quick goals made the game safe for Alty.
On 57 minutes Town failed to cut out a free kick from the left and Jack Redshaw scored at the back post.
Then three minutes later,Alty's goal machine Reeves scored with a 30yard snap shot via the post.
Town retaliated with Paul Heckingbottom shooting over from Turnbull's pass and sub Jake Picton driving wide.
Harrogate were caught on the break with 15 minutes left when Reeves flicked in Richman's cross to make it 5-2.
With the last action of the match Jake Picton bundled in a corner only to be penalised for an infringment.
Town 1 Cook 2 Bore 3 Heckingbottom ( Elam 75) 4 Brough (c) (Turnbull 50) 5 Liburd (Picton 61) 6 White 7 Youhill 8 Bolland 9 Brayson 10 Allan 11 Radcliffe
Subs unused 14 Pell 18 Turl Bookings nil
Scorers Brayson 34 pen, 51.
Attendance 773