The biggest small animal show is back at the Yorkshire Event Centre for 90th Show.
Burgess the Bunny, a giant white rabbit, has been spotted hopping around Harrogate town centre preparing for the Burgess Premier Small Animal Show, the largest of its kind in the UK.
The fifteen foot bouncing white bunny was spotted today in various locations around the town including the Stray and at Cedar Court Hotel, the show's Premier Hotel Partner. Burgess, named after show sponsors Burgess Pet Care, is rumoured to be practicing his hopping skills around the town in preparation for the remarkable sporting spectacle, which has captured the imagination of small animal lovers across the UK following the inaugural competition at last year's show.
The rabbit jumping attraction takes place at the Burgess Premier Small Animal Show, the 'Crufts' of the small animal world, which attracts more than 3,000 gerbils, guinea pigs, hamsters, mice, rabbits and rats.
Open to the public on 28th & 29th January 2012, the event showcases a trade area which will house a range of stalls selling craft, food and pet products as well as a Showcase Strip Activity Zone, where children's activities along with the rabbit jumping will be taking place throughout the weekend.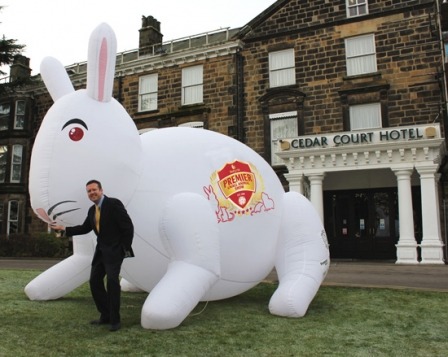 Show organisers are thrilled that the Rabbit Grand National, which took place in the UK for the very first time last year, is set to become a regular event. Hopes are high that Britain can reclaim the title from Swedish rabbit Cherie, who hopped to victory at last year's show. More than 10 rabbits are likely to take part in the timed display and tackle the course, which is based on horse jumping, but designed to be rabbit friendly.
Naomi Chatterley, marketing manager at Burgess Pet Care and Small Animal Show sponsor, said:
Rabbits are natural hoppers and, because of their agility, it's natural and healthy for them to hop. Rabbit jumping is fun for owners and rabbits alike, but these rabbits have been specially trained for jumping and travelling. While we wouldn't encourage just anyone to do this with their own pet rabbit, it does demonstrate to people who might be thinking of getting a pet rabbit, just how much exercise and space they do actually need.

We are delighted to be welcoming back our Swedish competitors, and are working hard to create a hutch from home for them all!
The Rabbit Grand National will take place at 11am, 1pm and 3pm, both Saturday and Sunday, in the main Showcase Strip Activity Zone. Visit www.smallanimalshow.co.uk for more information.
Tickets to the show are just £7 for adults and £3 children, a family ticket is £18 for two adults and three children, and entrance for children under five is free.
Tickets can be purchased on the door. The show is open from 9.00-17.30 on Saturday 28th and 9.00-16.00 on Sunday 29th January.