The BPEX regional roadshow visits the North East.
Butchers and farm shops in the North East of England and Yorkshire producing fantastic meat products will be firmly in the spotlight next month, as the BPEX roadshow rolls into town.
Stopping at the Great Yorkshire Showground in Harrogate on Wednesday 1st February, the BPEX roadshow will deliver Awards for Excellence in Meat Products and is looking for super sausages, brilliant bacon and perfect pies. Any independent retail butcher or farm shop in the North East and Yorkshire that makes their own products is eligible to enter and they could be in with a chance of picking up a prestigious award for their products and business.
There are twelve product categories in total* all of which are evaluated by master butchers and some of the industry's most respected judges. Each product is independently judged and awarded accordingly based on its score – there are three awards available; gold, silver and bronze.
At the end of the evening, the highest scoring gold award winner in each category will be crowned 'category champion', one of whom will go on to receive the prized title of Overall Champion for the North East and Yorkshire! This accolade is a fantastic way to get recognition, something last years' Regional Champion David Mounfield from J A Mounfield & Son points out. He says: "It's a great boost for staff and customers!"
The event also encourages young butchers with a dedicated category for 'Young Sausage Makers'. This draws in apprentices and aspiring new generations of butchers, some who have been as young as ten!
BPEX butchery and product development manager, Keith Fisher, adds:
These events recognise and reward those retailers making quality meat products, and really give them something to shout about. Customers are looking for great quality and service and what better way to stand out from the crowd than with a prestigious award to your name.

All butchers are very welcome to come along, even if they've not entered the evaluation event. They can meet with trade exhibitors, network and enjoy a free pork dinner.
Entry forms are available to download, along with terms and conditions, from www.porkforbutchers.co.uk. Butchers that register in advance can take advantage of a pre-entry discount offer, getting one extra entry free for every five products entered. (terms and conditions apply).
Products must arrive on the day between 2pm and 4pm. The awards presentation starts at 7pm where each category champion receives a certificate and trophy, followed by the announcement of the Overall Regional Champion. Each Regional Champion will then be invited to attend a National Final in June 2012, in London.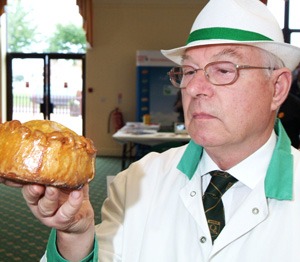 * The twelve categories for entry are:
Traditional Pork Sausage
Speciality Pork Sausage
Lamb/Beef Sausage
Traditional Pork Pie
Speciality Cold Eating Pie
Speciality Hot Eating Pie
Home Cured Bacon
Home Cured Gammon
Young Sausage Maker
Speciality Pork Products
Black Pudding
Ready Meals Beef/Lamb/Pork