Harrogate Grammar School has just completed an installation of 200 solar panels at the 1,800 student secondary school.
Based at the Pannal Business Park, Clean Energy (Yorkshire) Ltd undertook its largest installation to-date, making the first school in the town to benefit from electricity generated from the sun's rays.
The project took a team of three, who had to battle against gale force winds, sub-zero conditions and just eight hours of light a day – just two weeks to complete.
It was the 96th installation carried out by the husband and wife run firm since the end of October.
The panels  fitted to two roofs on the Sixth Form block  will generate just under 50kw of electricity, enough to power 4,500 low energy light bulbs or 3,000 computer screens.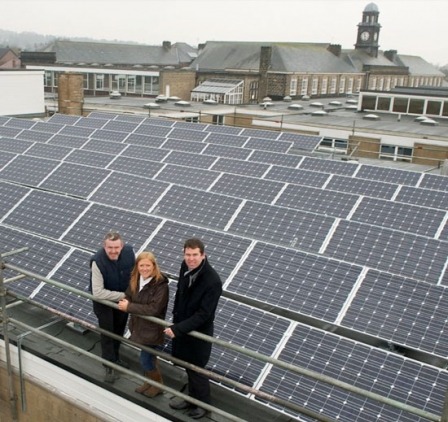 Clean Energy (Yorkshire) director Tamsin Cassidy with (from left) Harrogate Grammar School Site Facility Manager, John Mungovin, and Harrogate Grammar School Finance Director Steve Howell
Clean Energy (Yorkshire) director Tamsin Cassidy said:
This was our biggest order to date and the first installation we have done at a school.

From the outset, Harrogate Grammar School wanted to appoint a local company for this work – and after careful consideration they chose us.

This was a major contract for us and demonstrates our expertise in the renewable energy industry.

This installation will drastically reduce the school's power bills as well as diminish their carbon footprint.
Steve Howell, Finance Director from Harrogate Grammar School said:
We are delighted to have partnered with Clean Energy (Yorkshire) Ltd on this exciting project as we try to make our school a more sustainable place.

We were grateful to meet tight deadlines due to the tremendous efforts of the Clean Energy team. Students and staff have shown great interest in the panels.