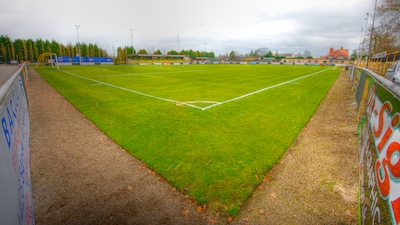 A large Boxing Day crowd saw Harrogate lose 0-4 at a windswept Wetherby Road.
Town were dealt a blow in the warm up when Richard Pell felt his hamstring and had to be replaced by Paul Heckingbottom.
After a fairly even first half hour in which neither attack made much impression,Guiseley took the lead when Jamie Clarke's speculative cross shot needed the aid of a deflection to enter the net.
Harrogate fought back with Will Turl heading Craig Radcliffe's free kick at Steve Dench, after Dave Merris had fouled Paul Brayson.
Drench then had to race well beyond his area to deny Brayson,before Turl shot over from close range, after Brayson had robbed Merris.
Immediately after the break, Lee Ellington squandered a great chance to put the visitors two in front when he scuffed the ball at Cook, after Chris Senior had sent him clear.
Town's Brayson forced Drench into a diving save with a free kick from the edge of the box after a foul on Turl.
On 56 minutes a long clearance caught Town on the break and Ellington's flick on was blasted in from the edge of the area by Chris Senior to make it two.
Guiseley were carving holes in the Town defence and Cook made a full length save to thwart Senior.
Two goals in two minutes sealed Town's fate,firstly,Senior found Michael Burns on 67 minutes,and his left foot drive into the far corner gave Cook no chance.
Then Burns returned the compliment when he dribbled through the home defence and left Senior time to pick his spot.
Harrogate battled to get onto the scoresheet and sub Jonny Allan's drive tested Drench from 30 yards.
Peter Bore capped a fine game with a tremendous run which was ended by Guiseley conceding a corner.
Town gave débuts to Alan White who had a solid game in defence and ex Railway striker Paul Beesley who came on as a sub with twenty minutes left.
However, it was another disappointing result for Town.
Harrogate Town1 Cook 2 Bore 3 Radcliffe 4 Brough (c) 5 Heckingbottom 6 White 7 Tait 8 Bloomer 9 Brayson (Beesley 72) 10 Meechan (Elam 57) 11 Turl (Allan 62)
Subs unused16 Youhill 19 Picton Booking Heckingbottom.
Attendance 661