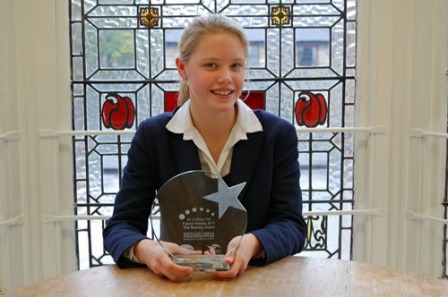 A courageous pupil from Harrogate Ladies' College has won a Stray FM Bravery Award, after demonstrating tremendous control when faced with a crisis situation.
Rhiannon Gruenwald, aged 15 years, snapped into action when her mother was suddenly taken ill whilst they were babysitting. Remaining cool, calm and collected she contacted the Emergency Services dialling 999.
Rhiannon then proceeded to use her initiative by calling her father and contacting the youngsters' parents to let them know what had happened. Rhiannon remained reassuring to all parties throughout the incident while waiting for the Emergency Services to arrive. Stray FM was thrilled to present Rhiannon with her well-deserved award at a presentation held at the radio station.
Rhiannon Wilkinson, HLC Headmistress, said:
The composure that Rhiannon showed that evening was truly remarkable

She remained calm and composed in what must have been a very frightening situation for a young girl and I am delighted that she has been recognised for this.