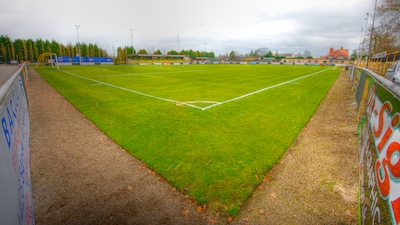 Harrogate Town recalled on-loan Michael Tait and gave a debut to new signing Michael Brough as they took on fourth placed Nuneaton Town.
Harrogate were soon on the back foot with Jake Picton making a timely interception to stop James Armson's run and Mark Cook saved well from both Gareth Dean and Danny Glover.
A mistake in the home defence gave Town a rare corner which was wasted with a foul on keeper Danny Alcock.
Lee Elam and Alex Meechan combined well to create space for Craig Radcliffe but his centre was well claimed by Alcock.
Once again Harrogate conceded just before the break when Jake Picton was penalised for holding and Danny Glover gave Mark Cook no chance from the penalty spot.
Cook tipped spectacularly over the bar as Nuneaton began the second half in the ascendency.
Twelve minutes into the half, Harrogate fell further behind when Laurie Wilson's pass was intercepted and a quick counter attack ended with Adam Walker driving into the top corner from twenty yards.
Wilson was inches high with a dipping volley and Radcliffe's shot, after a fine run, was diverted for a corner as Harrogate retaliated.
Pell and Wilson made way for Brayson and Tait but it was the midlanders who were having the lion's share of possession and Cook made a string of top class saves to keep Town in the game.
Eighteen year old sub Jack Emmett posed a late threat for Harrogate but it was Paul Brayson who came closest to scoring when his late cross shot just evaded the far post.
Harrogate Town 1 Cook 2 Bore 3 Radcliffe 4 Bloomer 5 Pell(Brayson 63) 6 Picton 7 Wilson(Tait 65) 8 Brough (c) 9 Turl 10 Meechan(Emmett 83) 11 Elam
Sub unused Dan Clayton Bookings Elam, Pell
Attendance 689
John Harrison