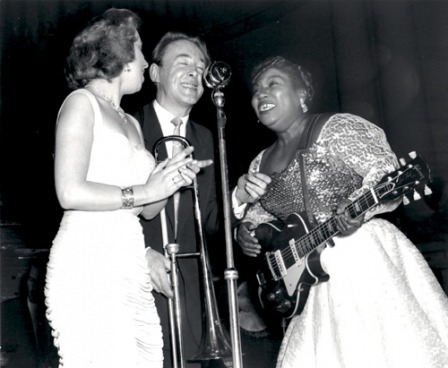 Harrogate Theatre has announced they are to link up with the highly acclaimed RedHouse Original Gallery in Harrogate to present a series of exhibitions in theTheatre's bar areas. The opening work will see an exhibition of pictures by Leeds born photographer Terry Cryer. This special exhibition will also feature the unveiling of rare and unseen images from the archives.
Terry Cryer has a way with a camera like no-one else; timeless, intuitive, effortless, iconic and alluring. Hisimages and unique printing techniques tell stories that words could never define. Born in Leeds in 1934, Cryer first made his name photographing the legends of the Jazz & Blues explosion in England in the mid to late 1950s. His 'magical' 1958 portrait of Muddy Waters is now featured on the Mississippi Blues Trail to mark the place of the legendary musician's cabin at the Delta while Sammy Davis Jnr was so enamoured with Cryer's photograph, taken in a London nightclub in 1960, that he would go onto use it as his publicity shot throughout the 1960s. During the 1960s and 70s Cryer photographed stars of the stage and silver screen with portraits including Steve McQueen at Le Mans, Peter Sellers at the London Palladium and Elizabeth Taylor at The Dorchester.
Cryer's photographs will go on display in both the theatre's bars, with each drawing on a different aspect of his astonishing career.
The Stalls Bar will feature a 'Jazz & Blues' theme focusing on selected images from the mid to late 1950s. Highlights include images of Sammy Davis Jnr and Muddy Waters plus the unveiling of a photograph with a very special link to Harrogate. Unseen until now, Cryer's portrait of Chris Barber and Sister Rosetta Tharpe onstage at Harrogate's Royal Hall in 1958 will go on public display for the first time. This image brings together two of the most influential figures in the Jazz and Blues movement, highlighting Harrogate's heritage as a destination for some of the finest artists and live performers of the last century.
The Circle Bar will feature Cryer's 'Stars of the Stage and Silver Screen'. Elizabeth Taylor, Richard Burton, Steve McQueen and Peter Sellers are among the names on show with many of the shots taken in the early 1960s during Cryer's time as in-house photographer at the London Palladium. The portrait of Peter O'Toole will go on public display for the first time at the theatre.
The photographs are also available to purchase. Each image is published in a limited edition of 25 and the prints and are signed, numbered and titled by the photographer.