Purple Mafia is made up of five 14 and 15-year-old pupils from Ripon Grammar School, where they all met and started playing together a little over two years ago.
Since then, they have won a number of awards and local competitions, played at the major Culture Shock and Limetree festivals, the Newcastlen Tyne Theatre and venues in York, Selby, Leeds, Ripon, Northallerton and Harrogate.
The band are made up of Josh Stockdale on lead guitar, Harry Yates on rhythm, Tom Stringer on Bass, Toby Hussey on Drums and Dan Reynard on vocals.
They write all their own material with the latest single 'She Thinks It' was being recorded at The Chairworks Studio, Castleford on mixing deck that formerly belonged to Gary Barlow of Take That. The Sound Engineer was James Mottershead, also from Harrogate.
The video to go with the song was produced and directed by the young Harrogate Film Maker, Ben Derrick.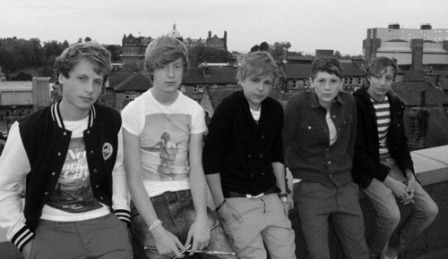 Josh, Toby, Dan, Tom and Harry of Purple Mafia
Since the Video and Song were published on You tube it has attracted more than 3,000 views with total views of all their songs topping the 10,000 mark and they have fans online as far a field as Portugal, Taiwan and Australia.
On Friday (9th December) they are performing at Harrogate's Royal Hall before an invited audience of 350 people at the Premier of Ben Derricks new film 'TRENDI'.
Josh said:
We have ower own sound and style but we admire bands like Coldplay, Muse, Two Door Cinema Club and The Kooks.

Recently our singles been played on BBC stations in York, Leeds, Newcastle, Manchester and we have just been featured as the guest band on Stray FM's 'Sunday Session'.
Latest Video  'She Thinks It'