Outstanding talent and triumph over adversity were the key themes of last night's 19th Yorkshire Young Achievers Awards, sponsored by McCormicks Solicitors of Harrogate.
The Personality of the Year Award at the gala dinner at Leeds United's Conference and Events Centre was presented to Corporal Andy Reid of the Third Battalion of the Yorkshire Regiment by the Chairman of the Awards, Peter McCormick OBE.
There were three Awards for young people from Harrogate, with the Youngster of the Year title going to ten-year-old Ashleigh Rumford; the Achievement in Management and Enterprise Award won by chef Tom Van Zeller, whose Van Zeller restaurant is in Harrogate; and the Achievement in the Arts Award going to actress Genevieve Barr whose family live in Burton Leonard. For more details see below.
The Awards once again welcomed more than 400 guests, including television stars and former winners. They mark the achievements of people aged 35 and under in seven categories, from the Arts to Management and Enterprise. The Yorkshire Young Achievers Foundation was established last year to support Yorkshire's deserving young people. The Awards themselves have now raised a total of more than £900,000.
Peter McCormick said:
As always, it has been a joy and a privilege to share our winners' stories. Yorkshire can be truly proud of the young people here tonight who contribute to the region in so many different ways.

"We have also been bowled over by the level of support we have received from businesses and guests at these Awards and we thank them wholeheartedly for helping us to support young people in Yorkshire.
The full line up of winners was: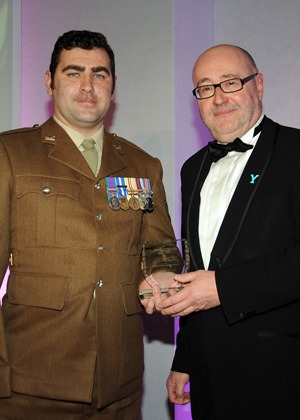 Personality of the Year, sponsored by McCormicks Solicitors
Corporal Andy Reid, 34. Andy suffered devastating injuries when, as a serving member of the Third Battalion Yorkshire Regiment, he was hit by the blast from an improvised explosive device (IED) in Afghanistan in 2009.
Just ten days before he was due to come home, he was on foot patrol in the early hours of the morning when the IED exploded, losing both legs and his right arm.
He set himself goals along his path to recovery, one of which was to be able to walk to collect his service medal in July 2010 which, with determination, he succeeded in achieving. He has also been able to take part in karting, thanks to KartForce, an organisation which provides adrenalin-packed racing for injured troops.
He has been supported by the Soldiers' Charity and is now paying back that support with his own fundraising efforts to help other servicemen and women who benefit from the charity, including a tandem skydive which he completed in August.
September saw him reach another, hugely important, personal milestone when he married his fiancée, Claire, and the couple celebrated with the traditional "first dance" at the reception.
Youngster of the Year, sponsored by DFS Furniture Company
Ashleigh Rumford, 10, of Harrogate. Ashleigh was nominated for her courage, bravery, determination and sense of humour in fighting a rare bone tumour which caused her to lose her right leg.
She was diagnosed with a rare tumour called Ewing's sarcoma last year when she was just eight and she underwent six gruelling chemotherapy treatments, suffering terrible side effects each time.
She stayed positive throughout and was due to have a procedure designed to save her leg in October last year. However, the tumour had caused so much damage to her muscle and tissue that, after much discussion between her family and her doctors, it was decided that the best option was to amputate.
Her right leg was amputated above the knee and just an hour-and-a-half later she was sitting up in bed and making a start on a thank-you present for her consultant.
Since then she has undergone more chemotherapy and in January she had a prosthetic leg fitted and stood on her own for the first time in four months. She had her first riding lesson the day before her amputation and has gone on to take up the hobby. She is also a keen swimmer.
Achievement in the Arts, sponsored by the Yorkshire Evening Post
Genevieve Barr, 26, of Burton Leonard near Ripon. Genevieve has overcome a significant disability to become a successful actress.
She was born profoundly deaf and her first challenge was to get into mainstream education, where she excelled both academically and at sport.
She achieved straight As at GCSE and A-level and a 2.1 degree in English and History at Edinburgh University, including a First in History for which she won a University prize.
She won silver in the under 14s at the national diving championship, played rounders for England and represented Scotland at lacrosse. She has recently taken up Rugby.
Her first acting role was as a nurse in a Channel 4 comedy pilot before she was chosen as the lead for a four-part drama serial for the BBC, The Silence, in which she appeared alongside Douglas Henshall, Hugh Bonneville, Dervla Kirwan and Gina McKee.
Since The Silence, for which she received great reviews, she has set up and run a two-week acting project in London for 12 aspiring disabled actors and has filmed an episode for Channel 4's Shameless. She is currently starring in a new science fiction series for BBC3 and BBC America called the Fades.
Achievement in Management and Enterprise, sponsored by GMI Group PLC
Tom Van Zeller (pictured below), 35, of Harrogate. Tom started his career close to his Harrogate home working at Bettys and Rudding Park. He has gone on to work in some of the country's finest Michelin starred restaurants, spending time in London, Sydney and New York, before gathering together all his hard-earned skills and knowledge to return to his Yorkshire roots and open his own restaurant.
In 2009 he set up Van Zeller in Harrogate with the backing of restaurateur David Moore, owner of two Michelin starred Pied à Terre. He raised investment and re-fitted the premises himself. Working on a shoestring budget, he has succeeded in creating a contemporary fine dining restaurant which has already made a name for itself – locally, regionally and more recently, nationally.
He and his restaurant have won numerous awards, including so far this year the Oliver Awards; Best Chef in the Hi-Life Awards and being shortlisted for Restaurant of the Year in the 2011 Good Food Guide. Just a few weeks ago the restaurant was listed by the Sunday Times as one of Britain's top 100 restaurants.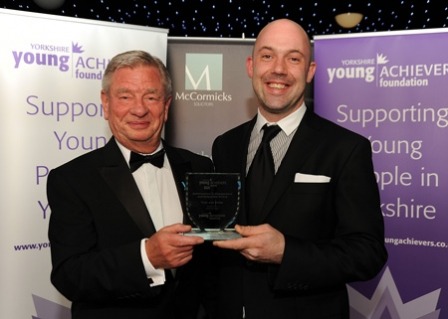 Achievement in Sport, sponsored by Leeds United Football Club
Tim Bresnan, 26, Pontefract
England cricketer Tim Bresnan started his sporting career at Townville Cricket Club in Castleford, where both his father and brother played, moving on to Castleford Cricket Club. An accomplished all-rounder, he became the youngest player in 20 years to represent Yorkshire when he debuted in 2001.
He began his international career in the England Under 19s and was part of the team in 2002 and 2003, playing in two World Cups. In the same years he also won the NBC Denis Compton Award for the most promising Yorkshire player.
But it wasn't until last year that he really came to the notice of the nation, arriving in the big-time with a stunningly good performance in the fourth Test against Australia in Melbourne last December. He played a key role in bowling out Australia for 98 in the first innings and then sealed England's Ashes win with four for 50 in the second innings.
This year he suffered a recurrence of a calf injury which ruled him out of the Test against Sri Lanka but a return to fitness saw him back on the Test team against India. He recently completed the one day series against India – which England lost 4-0 – as the top scoring batsman on the fourth day and was described by the BBC as "the only man to show the necessary application at the end of the innings". He rounded off the year by helping England to a six-wicket win over India to take the world Twenty20 championship at the end of last month.
Achievement in Education, sponsored by Martin Penny and OHS
Dr Aaron Brown, 26, of York. Dr Brown is the first person with Cystic Fibrosis to have been enrolled in the Royal College of Surgeons.
Brought up in Adel, Leeds, he was diagnosed with the condition, which causes difficulty in digesting food and chronic infection and inflammation of the lungs and for which there is, as yet, no cure, when he was just four days old.
He became interested in science while a pupil at Leeds Grammar School and went on to study medicine at York Teaching Hospital.
He was about to take his final surgical examinations when he was diagnosed with pneumonia, spending two weeks in St James's Hospital in Leeds. He managed to get day release from hospital to do a surgical course he wanted and finished his treatment on the Tuesday before sitting his final surgeon's exam on the Friday.
Aaron has to follow a rigorous medication and exercise regime to stay on top of his condition and allow him, following his exam success, to practice as an orthopaedic surgeon and senior house officer at York District Hospital, assisting in operations on up to four or five people every day.
Unsung Hero, sponsored by Lunchbox Theatrical Productions
Jonathan Lancaster, 26, of Normanton. Jonathan, known to his friends as Jono, has overcome a rare congenital disorder to build a successful and fulfilling life and career.
Born with Treacher Collins Syndrome, which leads to skull and facial deformities and hearing problems, he was put up for adoption just 36 hours after his birth.
His condition means that he has no cheekbones so his eyes droop and he has a bone-anchored hearing aid. He was bullied at school and taunted in public and rejected for a second time by his biological parents when he managed to track them down.
He has featured in a number of television documentaries, exploring not only the effect that his condition has on his life but also whether he should risk passing it on to a child.
After working as a fitness instructor for a while, he decided to use the skills he had learned growing up with some of the disabled people fostered by his mum and for the last four years has been a support worker for adults with autism.
He is currently fundraising for Ellie, a four-year-old girl who was also born with Treacher Collins Syndrome, to help her to go to Disneyland. He says she had a massive impact on him when he met her and he wanted to do something for her.