Two Harrogate-based food companies have lifted trophies at the sparkling seventh annual deliciouslyorkshire awards.
Little Barn was presented with the Best Bakery award for its Yorkshire Ale Cake and Scaife Hall Farm in Blubberhouses received the Best Yorkshire Breakfast award at the glittering award ceremony held at Harrogate's Rudding Park.
deliciouslyorkshire represents local food and drink retailers, suppliers and producers who have joined their group. The awards, supported by headline sponsor Tesco, celebrate the achievements of their members in the region's food and drink businesses. A total of twenty accolades were presented by BBC Radio 2's resident foodie Nigel Barden and Nick Stafford, Hambleton Ales owner and deliciouslyorkshire director.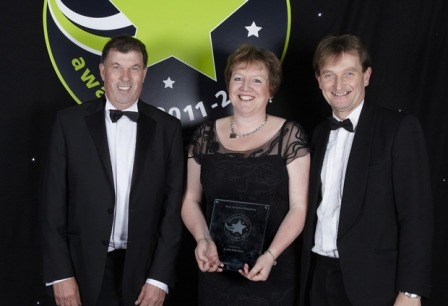 Chris and Christine Ryder of Scaife Hall Farm and sponsor Nigel Pulling – chief executive of Yorkshire Agricultural
Christine Ryder of Scaife Hall Farm said:
We're delighted to win this award – it's great to receive recognition from the industry for all the hard work we've put in over the years.
Little Barn director Nicola Grant commented:
After a year in business we're absolutely thrilled – this is the icing on the cake for us!
Cath Clelland, chair of deliciouslyorkshire, added:
Year on year the quality of entrants has been exemplary and reinforces Yorkshire's position as a leading force in the UK's food and drink sector. Many congratulations to all the entrants on setting the bar even higher this year – and special mention to Little Barn and Scaife Hall Farm for their exceptional efforts.
Over 400 food lovers also witnessed top chef Tim Bilton, from the Butchers Arms in Hepworth, receive the coveted deliciouslyorkshire Champion Award 2011-2012 for his contribution to the region's food and drink sector.
The event also raised over £3,000 for children's charity Barnardos.
The judging Panel was made up of:
Nigel Bardon – food and drink presenter at BBC Radio 2
Mike Dillon – chairman of the Seafood Training Academy
Caroline Bartop – regional marketing manager of Tesco for the North and East of England
Kay Legge – Technical Manager of Tesco
Rob Green – runs the bistro and restaurant Green's of Whitby and won the seafood chef of the year in 2009.
Tim Bilton – owner of The Butchers Arms in Hepworth and Yorkshire Chef of the Year in 2009
Joan Ransley – visiting lecturer in Human Nutrition at the University of Leeds and currently writes for the Yorkshire Post.
Steph Moon – chef consultant at Rudding Park in Harrogate
Valerie Aston – buying and distribution Controller at the Proudfoot Group
Alison Hamlett – local sourcing and technical manager of Asda
Darren Iddon – executive chef at the Raithwaite Hall Country Retreat in Whitby.
Matthew Benson-Smith – Chef Tutor at the Cooking School in Halifax
Margaret McSorley Walker – head of innovation (Food) for Asda
Elizabeth O'Keefe – creator of the Seasonal Dinner Parties Company
Annie Stirk – managing director of Absolutely Food PR and Marketing in York
Leah Jenson – head chef at the Mint Hotel in Leeds
Steve Dunkley- the EBLEX Regional Manager for the North East (the organisation for the English beef and sheep meat industry)
Chris Finnegan – head chef at the Grange Hotel in York
 Nicola Grant – Little Barn director(left), receives her award from award sponsor CJ Antal-Smith, category director at ASDA
The full list of award winners is as follows:
Best Yorkshire Breakfast
Sponsored by: Yorkshire Agricultural Society
Winner: Scaife Hall Farm
The breakfast was described by the judges as 'faultless'.
Best Use of Local Produce on a Menu
Sponsored by: Barclays Bank
Winner: Black Swan at Oldstead
The judges were impressed by the quality of the food and the execution of the cooking.
Best Retailer of Local Produce
Sponsored by: Yorkshire Coast College
Winner: Williams Farm Kitchen
Described by the judges as offering a great range of value-for-money local produce.
Best Savoury Condiment
Sponsored by: Fridge Rentals Ltd
Winner: The Fruity Kitchen for Redcurrant Jelly
This condiment was commended for its great homemade taste.
Best Drink
Sponsored by: SIBA
Winner: Boozy Infusions for Jamaica Ginger Cake Infusion
This tipple was described by the judges as having a 'knock out aroma'.
Best Fish and Seafood
Sponsored by: The Grimsby Institute
Winner: Whitby Seafish for Oak Smoked Salmon
Described by the judges as having 'a brilliant natural flavour.'
Best Sweet Preserve
Sponsored by: The Insurance Partnership
Winner: York Speciality Foods Ltd – Mercers for Yorkshire Strawberry Conserve
This preserve received one of the highest scores in the competition.
Best Dairy
Sponsored by: DWF
Winner: Shepherds Purse for Monks Folly
The judges described this cheese as 'creamy and fresh, but not overpowering.'
Best Confectionery
Sponsored by: Marshall Wooldrige
Winner: Sciolti Chocolates for Seriously Ginger Chocolate Thins
The judges noted that this after-dinner chocolate 'packs a punch'.
Best Ready to Eat Product
Sponsored by: Vale of Mowbray
Winner: Yorkshire Crisp Company for Lamb and Mint Crisps
Described by the judges as 'a brilliant Yorkshire take on the classic crisp'.
Best Meat Product
Sponsored by: EEF
Winner: Moss Valley Fine Meats for Hot Smoked Cured Pork Belly
The judges described this meat as 'deliciously tender'.
Best Fresh Produce
Sponsored by: Askham Bryan College
Winner: Parkers Veg for Seasonal Selection
The judges commended Parkers Veg's excellent variety of fresh local produce.
Best Fresh Meat
Sponsored by: Eblex
Winner: Swillington Organic Farm for Organic Chicken
The judges said the quality of this meat was 'all in the taste'.
Best Bakery Product
Sponsored by: ASDA
Winner: Little Barn for Yorkshire Ale Cake
The judges described this cake as 'sumptuous'.
Best New Product
Sponsored by: Sheffield Hallam University
Winner: Raisthorpe Manor Fine Foods for Sloe Port
The judges described this port as 'full bodied'.
Outstanding Newcomer
Sponsored by: Oakapple Group
Winner: Gareth Barlow from Howardian Hebrideans
Gareth was described as 'a young farmer on a fantastic journey'.
Best Exporter of Local Produce
Sponsored by: Ward Hadaway
Winner: AL Simpkin
The judges described AL Simpkin as 'an export expert'.
Best Distributor of Local Produce
Sponsored by: Hider Foods
Winner: Delifresh
The judges commended Delifresh for supplying some of the finest fresh produce in the UK.
Consumers' Choice
Sponsored by: Proudfoot Group
Winner: Boozy Infusions for Jamaican Ginger Cake Infusion
This product received this accolade as consumers loved the clean flavour and versatility of this product.
Deliciouslyorkshire Champion 2011-2012
Sponsored by: Rollits
Winner: Tim Bilton, The Butchers Arms
Tim was described as 'a real champion of local produce, and a great supporter of the work of deliciouslyorkshire.'