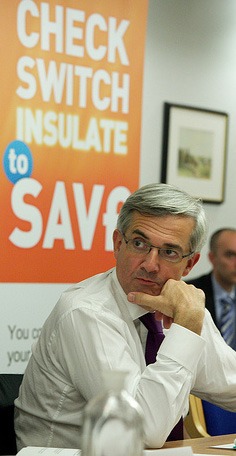 Energy Secretary Chris Huhne is urging Harrogate householders to 'Check, Switch and Insulate to Save' on their energy bills this winter.
Following price rises announced over the summer, many households could save money by changing payment method, shopping around and switching to a better deal with another supplier, and taking advantage of free or discounted insulation offers to keep their homes warm.
Last year Harrogate residents paying by standard credit faced bills on average of £680 for their gas and £428 for their electricity – £1,108 in total. Householders who paid by direct debit however paid £635 for gas and £387 for electricity, £1,022 in total – £86 less.
Thousands of Harrogate residents have also taken steps to stop their homes leaking heat – and money. In the first two years of the Government CERT scheme, under which energy suppliers are obliged to provide free or discounted insulation offers, 3,152 Harrogate lofts have been lagged and 2,934 cavity walls filled – 6,086 installations in total.
However 42 per cent of British homes still lack adequate loft insulation, and of homes with cavities, only 58 per cent have cavity wall insulation present. Residents are being urged to visit www.direct.gov.uk/homeenergy or call the Energy Saving Trust on 0800 512 012 for advice on the latest available local offers on insulation.
In a letter sent to local Members of Parliament today, Mr Huhne writes:
Rising energy prices, driven by international fossil fuel prices, are hitting many households hard at a difficult time and I understand consumers' concerns. We can't control global gas prices but we can help householders control their bills by insulating our homes and shopping around for the best energy deal in the market.

However, even though prices are going up in the way we have seen, 99 per cent of customers still get their energy from only six big companies and according to Ofgem, only around 15 per cent of people switched their energy supplier last year.

Many consumers miss out on the best deals because they do not know how much money they might save by changing their tariff or payment method, or they think it will be difficult to identify a better tariff. I am particularly concerned that vulnerable households do not know how much they could save.

I am therefore pleased that consumer groups, Ofgem and suppliers were able to sign up to the joint Check, Switch, Insulate to Save campaign, to help consumers save money this winter.
The drive follows the 17 October Energy Consumer Summit called by the Prime Minister and Chris Huhne, where energy suppliers, consumer groups and Ofgem agreed on action to help people save money this winter by changing payment method, switching suppliers, and taking advantage of insulation offers.
Harrogate energy consumers are being urged to:
CHECK if there's a cheaper way to pay – you could save the most money by paying by direct debit, or moving to an online or dual fuel tariff. Monthly direct debit is on average £100 cheaper per year than paying by cash or cheque. If you pay by cash or cheque your supplier will be writing to you over the next few months to let you know if they can offer you a cheaper deal.
SWITCH to a cheaper energy tariff or energy firm – you may be able to save up to £200 off your annual bill by shopping around for a different supplier, particularly if you have never changed energy firm. An accredited switching website or phone line can help you to find the best deal – with a wider range of tariff offers which may give a better saving than switching on your doorstep. You can also contact energy suppliers directly.
and INSULATE your home – all the large energy suppliers are offering free or cut price deals for loft insulation, cavity wall insulation and other measures. Full loft and cavity wall insulation could help stop your home leaking heat and save you more than £100 per year on your energy bill.
Participants at the summit agreed to help organise local and regional events planned for a Big Energy Week in January 2012, so that consumers can receive practical advice on switching and energy efficiency measures available to them. For more information on outcomes of the Energy Consumer Summit
Separately, for those customers using heating oil, following the events of last winter consumer groups and industry have run a campaign to encourage heating oil consumers to stock up early this winter. In his letter to MPs Chris Huhne writes:
The early snow last December shows that it is better to stock up before the winter, when suppliers have spare delivery capacity. Clearly, leaving orders to the last minute risks longer delivery times, especially if cold weather increases demand and disrupts transport making deliveries difficult.
The Check, Switch and Insulate to Save campaign comes on top of action Government is already taking on prices:
· The Government and Ofgem are working to make tariffs simpler, make switching easier and quicker, boost competition and make sure consumers get a fairer deal on their energy.
The Government is also making sure there is more support for most vulnerable households to get them through the worst of the winter. The Government has increased the money available to help fuel poor consumers this winter to £250 million, up two thirds compared to last year: the new Warm Home Discount scheme will provide help to around 2 million low income and vulnerable customers this year – including 600,000 of the poorest pensioners who will get energy bill rebates worth £120 this winter.
Energy companies have also been told to increase the help they make available to people to insulate their homes, with 3.5 million homes set to benefit from better insulation by December next year.
From October next year the Government will roll out that Green Deal to help even more households save money through an even greater range of energy efficiency measures.
Government plans to radically reform the electricity market will deliver the best deal for Britain and for consumers: getting us off the hook of relying on imported oil and gas by creating a greener, cleaner and ultimately cheaper mix of electricity sources right here in the UK; nurturing a new generation of power sources including renewables, new nuclear, and carbon capture and storage, bringing new jobs and creating new expertise in the UK workforce.
ENERGY KEY FACTS
Partly as a result of factors including increased demand from developing countries such as China, instability in the Middle East, and the closure of nuclear stations in Japan, the international winter gas price for 2011/12 is around 40 per cent higher than last winter. According to Ofgem, wholesale energy costs are around 50 per cent of a domestic retail gas bill.
Following the round of price increases announced by the Big Six energy suppliers this summer, Ofgem has calculated that:
the average standard tariff domestic gas bill will rise from £665 to £785;
the average standard tariff domestic electricity bill rise from £535 to £590; and
the average standard tariff domestic dual fuel bill rise from £1,170 to £1,345.
According to Ofgem, only 15 per cent of households switched gas supplier last year and 17 per cent switched electricity supplier – down from 20 per cent (gas) and 19 per cent (electricity) in 2007, despite the fact that it is possible to save up to £200 from an annual dual fuel bill by shopping around.
Customers who changed to payment method to direct debit payment in 2010 saved between £37 to £125 according to Ofgem.
Including taxes, the UK has the fourth lowest domestic electricity prices and the lowest domestic gas prices in the EU 15.
Over the next ten years, we will need £110 billion of investment in electricity plants and networks and another £90 billion of investment in other infrastructure to replace ageing plants and avoid the risk of blackouts; around a quarter of the UK's existing generation capacity will need replacing by 2020 as many nuclear and coal plants reach the end of their lives.