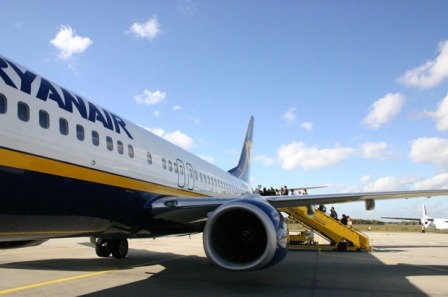 Ryanair has announced today (3rd Nov)  that it will base a third aircraft at Leeds Bradford airport for summer 2012 which will allow Ryanair to add six new routes (26 in total) from Leeds Bradford to Chania (Crete), Corfu, Dinard, Kos, Milan (Bergamo) and Tenerife and extend its po pular Kaunas and Riga routes to its summer 2012 schedule.
Ryanair's 26 routes (and three based aircraft) will deliver over 900,000 passengers p.a. at Leeds Bradford Airport, sustaining 900 jobs.
To celebrate its 26 low fares Leeds Bradford routes Ryanair released 500,000 seats from £9.99 for travel across 1,000 European routes in late Nov/ early Dec.
These £9.99 seats must be booked on www.ryanair.com before midnight (24:00hrs) Thursday (10th Nov). Ryanair's six new low fares routes from Leeds go on sale on www.ryanair.com tomorrow (Fri 4th Nov).
Speaking in Leeds, Ryanair's Michael O'Leary said:
Leeds Bradford today celebrates six new summer sun Ryanair routes to Chania, Corfu, Dinard, Kos, Milan Bergamo and Tenerife as Ryanair's Leeds Bradford base grows to 26 routes which will deliver 900,000 passengers and sustain 900 jobs in Leeds Bradford next summer.

To celebrate our 26 Leeds Bradford routes Ryanair is releasing 500,000 seats from £9.99 for travel across Europe in late Nov/ early Dec.

Since seats at these crazy low prices will be snapped up quickly, we urge passengers to book them immediately on www.ryanair.com
Leeds Bradford International Airport's Tony Hallwood said:
We welcome Ryanair's continued growth at Leeds Bradford, the fastest growing airport in the UK. We are proud that the introduction of 6 new destinations flying locally and conveniently from Yorkshire's gateway airport will bring new jobs and investment in 2012. With a total of 26 routes operating to 11 countries Ryanair provides a comprehensive choice of destinations for leisure and business customers. Today's announcement will also help in attracting an increasing number of inbound visitors to explore Yorkshire and the Leeds City Region.