The Academy Health Club in Harrogate has signed an exclusive two-year sponsorship deal with Drivestyle Horseless Carriages.
But the new partnership will not only benefit club members, it is geared to drive up fund-raising efforts for the town's Saint Michael's Hospice in addition to working with Saint Michael's through fundraising events and use of the facilities.
Whilst the club, located at Oakdale Place, already works regularly to support Saint Michael's, Drivestyle will, over the next 12 months, donate ten percent of its service revenue to the charity.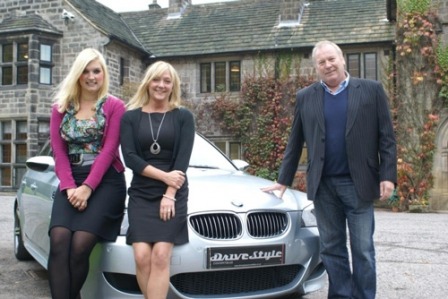 Supporting St Michael's Hospice! (from left) Saint Michael's Hospice Fundraising Events Manager, Lucy Gill; The Academy Managing Director, Philippa Shackleton; and Drivestyle Managing Director Steve Williams
The Academy's Managing Director Philippa Shackleton, said:
We are delighted that Drivestyle Horseless Carriages has come on board as our main sponsor. It's an exciting opportunity for both of us to introduce our unique brands and services to new audiences.

However, one of the key elements of this partnership is the support for Saint Michael's Hospice. Both The Academy and Drivestyle are committed to raising funds for this charity, which has personally supported a number of our clients over the years.
Drivestyle Managing Director Steve Williams said:
We are really looking forward to developing our relationship with The Academy. It is recognised as one of the premier health and fitness clubs in North of England with magnificent facilities.

We pride ourselves on offering our customers a premier service with a personal touch that many garages and dealerships no longer offer. We want to create an easy and accessible 'drop-in health clinic' for motorists – with traditional values and realistic prices
Lucy Gill, Saint Michael's Hospice Fundraising Events Manager, said:
We are grateful to both The Academy and Drivestyle for their support, which is so very important to us.

Without the continued generosity of individuals and business across the district, we would not be able to provide the care and support to the 2,400 people who currently access our services each year.