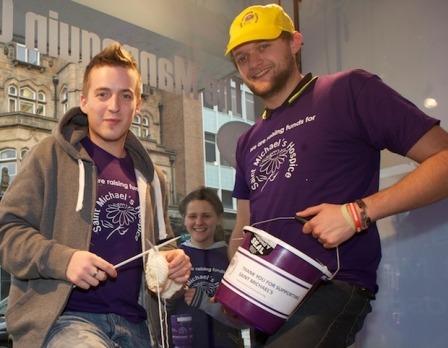 As Jason and Ben go into their 4th night of living in a Harrogate shop window, the lack of sleep is taking an affect and tiredness is setting in. The event has gained massive media attention but the letter that landed through the mannequins door has helped them this evening. They asked me to share it with you.
They are raising money for Saint Michaels hospice and will be living day and night in the shop window until 6pm this coming Sunday. Over £5,000 has already been raised and the general public is being very generous.
Jason and Ben said:
This has just fallen through the letter box and has made every second in here worth while :') x

We have covered the name because we didn't have permission to post it, it was signed "*******'s daughter" thank you so so much for sending this too us and it WILL make the next few sleepless nights a lot easier :) x
Dear Live Mannequins,
I just wanted to tell you that I think what you are doing is marvellous!
Saint Michaels is one of the most amazing places and one of the the most worthy fund-raising causes in the area. I know because I lost my Mum 5 years ago. She died in Saint Michaels where she was not only looked after like she was the only patient, we, my family and my Mum's friends were given the same respect and care. We truly felt like we were the only grieving people that the superstar nurses had to deal with and for that reason Saint Michaels is one of the most deserving causes and I wish you the up most good luck to you crazy pair!!
I think what you are doing is great – and it might help you get through the next couple days of (drunken spectators) to keep sane and to knowing that each penny you raise is worth it.
Much love and admiration
(name not printed)
To donate www.justgiving.com/shopwindow