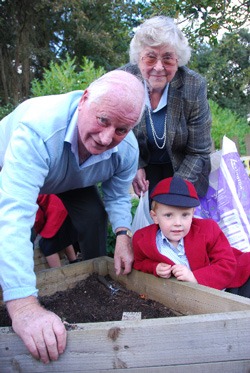 Grandparents, parents and youngsters put on their gardening gloves to brighten up the grounds of a leading North Yorkshire prep school.
Children at Belmont Grosvenor School, based at Swarcliffe Hall, Birstwith, near Harrogate, signed up for the Royal Horticultural Society's Get Your Grown-Ups Growing campaign.
The initiative aims to encourage gardening in schools, which helps children develop academic, practical and social skills. The scheme also aims to share the excitement of growing plants with 'grown-ups' and spread the word about healthy, home-grown fruit.
Belmont Grosvenor School is set in 20-acres of grounds on the edge of the Yorkshire Dales, and the school already runs popular Nature and Eco clubs, encouraging pupils to make the most of their outdoor space.
Pupils have their own vegetable patch, and plant their own produce which is turned into healthy snacks and meals at school.
Parents and grandparents turned out in force to help plant sackfuls of daffodil bulbs around the school grounds – thanks to the help of the local Rotary Club who provided the bulbs at cost price.
Year 1 teacher Ann Harrison, who co-ordinated the planting effort, said members of the Eco Club had identified areas around the school that needed 'brightening up'.
"It was wonderful to see such teamwork and enthusiasm despite the hard ground that some groups faced," she said.
After the bulbs had been planted, pupils in Year 6 organised tea and cakes to say thank-you to parents and grandparents who turned up – and as part of their work towards achieving the Belmont Grosvenor School Award.
Belmont Grosvenor School is a co-educational prep school set in 20 acres of grounds. Together with its Magic Tree Nursery the school caters for children from three months to 11 years.
For more information visit the school website at
www.belmontgrosvenor.co.uk or call 01423 771029.