The President of Tockwith Show has thanked supporters of this year's event for helping to raise more than £580 for charity at the end of show auction, one of the highest amounts ever raised at the traditional annual event finale.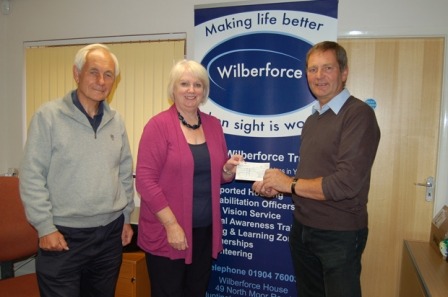 Mike Tham, Tockwith Show President, with Helen Ambrey of the Wilberforce Trust and Sam Blacker, Chairman of Tockwith Show
Mike Tham said the money this year would go to York-based charity the Wilberforce Trust, which enables people with visual and other impairments to live as independently as possible in the community.
Mike Tham said:
The charity does great work and I have a close association with it as my brother is a resident of one of their York houses.

It's an excellent cause and I'm delighted that the auction was well-supported and raised so much money in support of this worthwhile charity.
The auction is a traditional event which sees items entered in show classes sold off at the end of the day in aid of the President's charity.
Mr Tham said that this year stallholders in the Farmers' Market and Working Crafts marquee also donated items for the sale which boosted takings significantly.
Despite bad weather at this year's show thousands of visitors turned out to support us and a huge crowd of people stayed on to take part in the auction, which has now become a popular part of the day.

We're very grateful to everyone who attended and to those who donated additional items and helped to make it such a successful end to another great show.
The Tockwith Show AGM will be held on November 2.
Caption: