Members of the public from across the region met for the first time with British Transport Police (BTP) last night (Tuesday, 20 September) in Leeds, to voice their opinions, and provide feedback on policing of the North Eastern region's railways at the launch of the areas Citizens Panel.
Earlier this year BTP appealed for enthusiastic members of the public, in particular those who have strong links into local communities, to apply to work for the Citizens Panel. Members would be recruited in an advisory capacity to provide feedback and advice on how BTP's actions are interpreted by members of the public. The aim of the panel is to strengthen relationships between BTP and local community groups.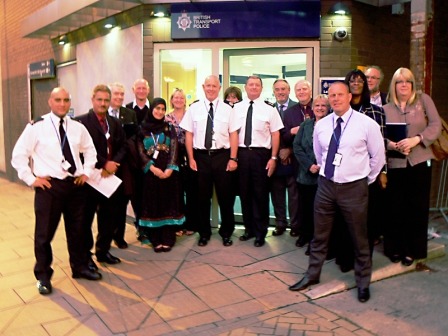 Ten volunteers, from a cross-section of backgrounds, communities and diversity groups, were chosen from the large number that applied to represent the railway community in the North East.
Inspector Tracy Metcalf from BTP, who set up the scheme, said:
We wanted members of the public to become more involved in advising us on policing of the railways in the North East, and constructively evaluate BTP's policies and procedures based on their own independent views, experiences and special knowledge of their own communities.

BTP already has a National Independent Advisory Group (NIAG) but we wanted to develop an area-based group. We had an overwhelming response from a really wide range of people from all sorts of backgrounds with vast and valued experience which they could bring to the group, which was really encouraging.

Our first meeting last night was really about getting to know each other, looking at the role of the group and learning more about each of the communities that the members represent. It was great to hear and see the enthusiasm and ideas, opinions, and feedback that were brought to the first meeting.

The volunteers will be a voice for the community. They will provide feedback to us, and be able to challenge us when they don't think we are getting things right. We want them to be critical and challenge existing processes to continue to build trust and confidence in us, which will have real tangible effects on our policing and our policies.
Panel member Mr Jim Kerr from Wakefield said:
As an active member of my community I was keen to volunteer to be involved in the BTP Citizens Panel. My role will involve being a spokesperson and link between the two. It's often hard for members of the public to express their opinions, or provide feedback on policing, which usually takes place after the event and often when something goes wrong! However the panel will provide a great opportunity for us to be proactive, advise, and have our say, which is great news.