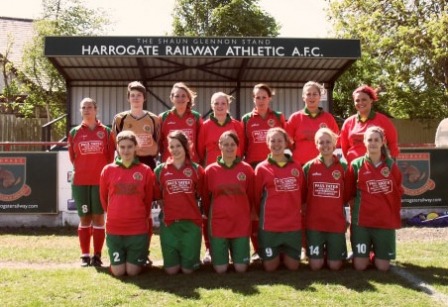 Harrogate Railway played host to Bradford Park on Sunday (18th Sept) in conditions that would test any team, hot sunshine and torrential rain, once again Railway were off the mark very early with midfielder Issy Rowe playing the ball out to the left then crossed in from Leah Mercer for Hannah Campbell to score after only 4mins. Bradford did respond well and gathered themselves to put some good pressure on the rail defence, Railway played some good attacking football, however they struggled to make their chances count and kept putting the ball wide or straight at the keeper. On 25 mins Bradford were awarded a freekick just outside the box , it was well struck but came back off the wall and the rebound was fired in through the crowded box and Rails keeper Emma Prest could do nothing to stop it 1-1.
Again, Railway pressed hard to break down the Bradford defence and with 10 mins before half time the Referee stopped play due to the monsoon rain that came down! On the restart railway pushed and a great through ball from Paige Swales found Hannah one on one with the keeper and calmly slotted past to make it 2-1 halftime.
Again rail showed how fast they can attack and straight from the restart on 47 mins Hannah claimed her hatrick 3-1. After this it was a tight game for 20 mins with both teams making chances but unable to make them count, Railway player off the match was Sandra Clarke for her role as full back . When Martina Petrova came on at right wing she had a immediate effect putting 3 great crosses into the box the 3rd finding Issy Rowe who found the back off the net with a fine strike 4-1 .
After this the wind went out off Bradford and a great link up with midfielder Francesca Ireland, Martina and finally Dee Swales who fired in her shot in the top right corner to finish the game 5-1 to Railway Ladies.
Next week the ladies play host to 2nd place Keighley at station view 25th September with a 2pm KO.