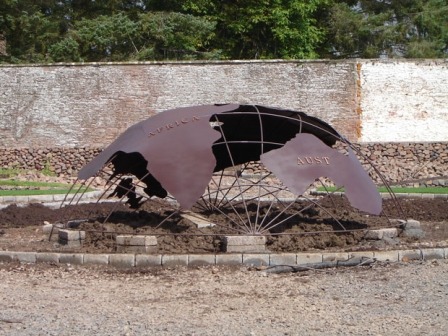 When Chris Chilton of Chiltondale Wrought Ironsmiths in Summerbridge stumbled across an article in a gardening magazine, he never realised it would lead to him creating a piece of artwork for the Royal Marines.
The article was written by Gardeners' World presenter, Tony Buckland, who mentioned he was working on a memorial garden for the Royal Marines at
RM Condor, Arbroath, Scotland. This is to be a place for those who have been injured, or lost comrades, to relax in and be at one with their thoughts.
Chris's father, Mike (aged 71), is an ex-Marine and he decided to contact Tony to offer a piece of ironwork – perhaps a gate or some railings.
Chris said:
Instead, having seen the quality of our work, the Marine in charge of the project, Captain Steve Lewis, asked if we would be prepared to make a centrepiece for the garden

Based on the main part of their cap badge*, we have created a semi-globe which weighs over one tonne and measures 4.5 metres in diameter and 1.5 metres in height.
Captain Lewis paid regular visits to Summerbridge from Arbroath to discuss colours and style and just to see how the sculpture was progressing.
Captain Steve Lewis said:
We are absolutely delighted with the finished piece and it is now in place as we make the finishing touches ready for the official opening of the gardens on 11 November 2011. Chris and Mike have been invited to join us at a supporters' ceremony on 4 November. This was such a generous offer from them and I know many former Marines and those currently serving will get comfort and pleasure from this special garden.

This project is especially timely and appropriate given the burden shouldered by 45 Commando in recent years and the sacrifice made by many of its people. We are especially grateful to Mike and Chris Chilton for their contribution. We have been especially lucky to have received similar offers of work in kind as well as generous cash donations.
This £150,000 garden is being formed from what was a featureless rectangle but when digging began it was found to be a listed Victorian garden and many of its features have been retained. Students from Angus College horticultural department have been working alongside Tony Buckland and service personnel.
An 8' memorial stone inscribed with the names of all those associated with 45 Commando who died on active service will be placed at the centre of the garden and the stone has come from areas where the 45 Commandos have had active service.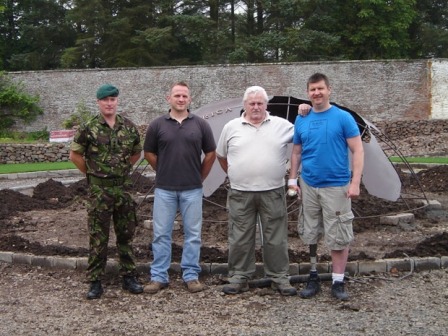 left to right Captain Steve Lewis, Chris Chilton, Mike Chilton, Colour Sergeant Paul (Baz) Barrett