Harrogate Borough Council Leader, Cllr Don Mackenzie, joined Harrogate International Centre (HIC) recently for a 'topping out' ceremony to mark a significant milestone in the construction of its new £13m event halls.
Wates Construction, the contractor responsible for building the venue's 68,000 sq m new exhibition space and additional car parking facilities, held the event to celebrate the placement of the building's roof.
The 'topping out' ceremony, also attended by John Hayton, Head of Property and Economic Development from Harrogate Council, is a pagan tradition historically held to bring luck when construction of the uppermost point of a new building is complete.
The HIC's two new event halls will add a further 15,000 guest capacity to its current facilities, seeing the venue's services extend to allow events to run simultaneously. Construction commenced in August 2010 and is set for completion in autumn this year.
To mark the occasion, Wates Construction presented HIC Director, Angus Houston with gifts customary of topping out; a yew tree, to be placed on the uppermost part of the building to appease tree-dwelling spirits; wheat to symbolise abundance; and oil to signify liberty and prosperity.
Cllr Mackenzie, who is also Chair of the HIC board, commented: "This is a very important development for Harrogate International Centre, and demonstrates our confidence in the successful future for our venue. The fact that the project is on time and on budget is to the credit of the council's officers, our consultants, and to Wates Construction. We are also very grateful to Yorkshire Forward for their substantial contribution, and for their unfailing support at all times".
Angus Houston, Director of HIC, added: "The ceremony marks the next stage in our development. The new halls will soon be open bringing more visitors than ever to the centre and to the town. It is a very exciting time."
Dave Price, Business Unit Director for Wates Construction, Yorkshire, commented: "Wates Construction is very proud to be a part of such a high profile project for HIC. This topping out ceremony symbolises a big step in the construction process and it is important to mark build milestones, to acknowledge what has been achieved and to punctuate our progress in the delivery of this significant project."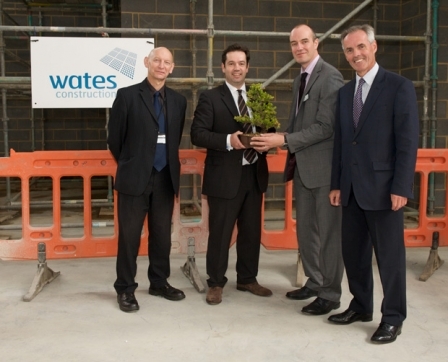 (L-R) John Hayton, Head of Property and Economic Development from Harrogate Council; Angus Houston, Director of HIC; David Price of Wates Construction and Cllr Don Mackenzie, Leader of Harrogate Borough Council