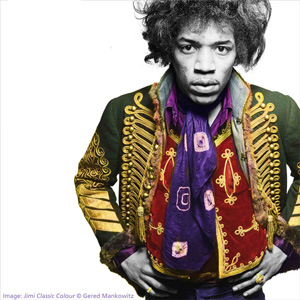 An exhibition of classic and unseen photographs of Jimi Hendrix by renowned British photographer Gered Mankowitz.
RedHouse Originals is thrilled to present this major exhibition of images from the Jimi Hendrix archives. The gallery is honoured to feature the work of Gered Mankowitz exhibiting at RedHouse for the first time and who will also be in attendance at the exhibition opening from 4 – 7pm on Friday 29th July.
The show at RedHouse also presents the last opportunity for collectors to view this special collection in the UK before the exhibition travels to the Far East in 2012.
Gered Mankowitz had two shoots with Hendrix in his Mason's Yard studio in central London, 1967.
At the first shoot, on the very last frame of the first roll, Mankowitz took the portrait that would become the most important photograph of his entire career and possibly the most famous studio portrait of Jimi ever taken. It's his portrait of a tightly framed Jimi with hands on hips, taken from a slightly elevated position to emphasize Jimi's head, the width of his shoulders and his slim hips.
"It's extraordinary to look back and realise that this portrait was the only shot I did of Jimi by himself on the first roll. I must have either felt very confident that I got it, or was stupid that I didn't realise what had just happened. Either way, it was captured, and would go on to have a life of its own many years later." Gered Mankowitz
The image 'Jimi Classic' is undoubtedly a classic but to focus on it is isolation is to ignore the incredibly rich seam of work that makes up Gered Mankowitz' Jimi Hendrix archive. The majority of these images have only recently been unveiled and Mankowitz will open the show in person during a special event at the gallery from 4 – 7pm on Friday 29th July.
The entire gallery will be dedicated to this exclusive collection of photography and printmaking. The first floor of the gallery will feature Mankowitz' traditional handmade black and white silver gelatin photographs which have been the staple diet of photography collectors for many years. The ground floor and landing area of the gallery will be distinctly untraditional, devoted to a collection of physically imposing and boldly conceived artworks created by Mankowitz from his original black and white images. These give a contemporary twist to his classic images, in sizes up to six feet high.
A range of different printing and framing techniques feature in the show including lenticulars, lightboxes, 'Softsharps', silkscreen prints, special metallic papers and contemporary framing techniques that have to be seen to be believed. Mankowitz has incorporated state-of-the-art technology and cutting edge concepts to bring one of the most exciting exhibitions of the year.
RedHouse Originals are delighted to be working in association with Harrogate International Fringe Festival to bring this special exhibition to Harrogate.
The Experience: Jimi Hendrix at Mason's Yard
RedHouse Originals
15 Cheltenham Mount
Harrogate HG1 1DW
Opening Hours: Mon to Sat 10am – 6pm Sun 11am – 4pm
Friday 29th July – Sunday 28th July
Preview: 4 – 7pm Friday 29th July – please contact the gallery to attend:
t: +44 (0)1423 884400