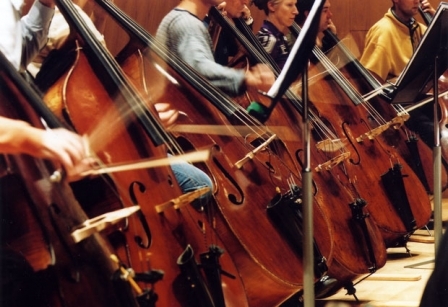 Orchestral, jazz and folk music, African dance and song, drama, poetry, puppetry and literary celebrities will enliven Ripon and its surroundings for a fortnight in September when the Fourteenth Ripon International Festival gets under way.
Last year's festival achieved an all-time box office record attracting visitors from far and wide.
This year's opening concert at Ripon Cathedral on Saturday 3rd September, promises an evening of glorious music with the Orchestra of Opera North playing the lively overture Euryanthe by Weber, the much-loved Dvorak Cello Concerto, with internationally acclaimed cellist Jamie Walton, and the hauntingly poetic and passionate Fourth Symphony of Brahms.
Headlining the festival is Britain's most famous orchestra, the Hallé, at the Royal Hall, on Saturday 17th September in a thrilling Russian programme, consisting of Tchaikovsky's dramatic Romeo and Juliet Fantasy and Pathétique Symphony and Borodin's ecstatic Polovtsian Dances. Both concerts will be conducted by Janusz Piotrowicz, whose towering musicality and Slavic passion generates edge-of-seat excitement at his performances.
Booking for The Hallé is through Harrogate Theatre box office: 01423 502116
Other highlights include some of the top jazz virtuosi in Europe, The Jazz Repertory Company, in a dazzling display of style and fervour with "100 Years of Jazz in 99 Minutes"
folk star Kathryn Tickell
British-American bluegrass band The Coal Porters
The Archers characters "Lilian" and "Caroline" in their show "Wicked Women"
Rebecca Vaughan in the historical drama "I Elizabeth"
classical guitarist Morgan Szymanski; Chenyin Li playing Chopin, Debussy and Haydn
one of the world's top five harpists, Lucy Wakeford with flautist Kathryn Thomas in the breathtaking candlelit setting of St. Mary's Church Nun Monkton
Black Umfolosi from Zimbabwe; Crime and Comedy Writers, and fun events for children and families
To receive a free brochure call Festival Office on 01765 605508
Box Office: 01765 603994 For more details visit www.riponinternationalfestival.com