A York hotel's "green team" has been singled out for praise by judges at a prestigious national award.
The Best Western Monkbar Hotel – which last year picked up the York Press Think Green Business Award – has been "Highly Commended" at this week's Considerate Hotelier Awards.
The event, held at the worlds-famous Savoy Hotel, London, saw the York Hotel more than hold its own in the Green Team Category.
John Firrell, Considerate Hotelier Director and Association Secretary, said: "It really was a very close call, so much so that I am delighted to say that Best Western Monkbar Hotel has been awarded a Highly Commended in the Green Team category. Please keep up the good work – talent will out!"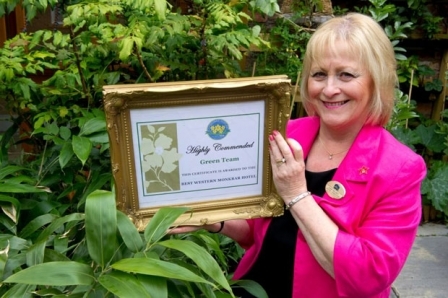 Monkbar Hotel director June Nelsey said: "This is a significant achievement and we are delighted to have been recognized in this way. The Monkbar Hotel's Green Team can be justifiably proud of this commendation, particularly as they were flying the flag for Yorkshire at the awards.
"Over the last year, the members of the team have gone to great lengths to make us more environmentally aware as well as implementing some superb initiatives.
"These have helped us reduce our impact on the local environment and I'm confident these will help achieve our next goal, being award the Green Tourism Business Gold award."
Considerate Hoteliers is an association of hoteliers who encourage, assist and motivate fellow hoteliers to adopt sound and sustainable environmentally friendly and socially responsible policies and practices.