STARS of ITV's The Dales were celebrating at the Great Yorkshire Show after TV bosses announced plans to film a second series.
The stars of the popular programme were on the Welcome to Yorkshire's stand to meet fans and sign copies of the brand new DVD released this month.
Today it was revealed that The Dales was so successful that a second series has been lined up to hit our screens in 2012.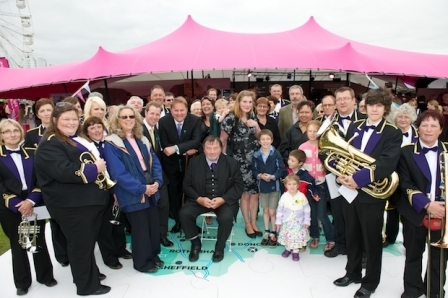 The 12-part show has already helped spark boom in tourism after catapulting the Yorkshire Dales into the homes of an average of nearly 4million viewers a week. Welcome to Yorkshire played a vital role during the making of the series in assisting the production team.
Stars who were at the Great Yorkshire Show today included Swaledale's Amanda and Clive Owen who have 900 sheep and five children, Tom Orde Powlett of Bolton Castle, near Leyburn, Margaret and Jackie Stubbs landladies of community-owned George and Dragon pub in Hudswell, Leyburn Brass Band and Rev. Ann Chapman vicar of four churches across the most remote parts of the Yorkshire Dales.
Leyburn Brass Band also entertained crowds throughout the afternoon when they took to the President's Bandstand.
Fans of the series have made trips to Yorkshire specially to see their favourite characters, with visitors to Bolton Castle up 50% this April compared to last. Amanda Owen has also been inundated with visitors hoping to sample her homemade scones and stay in their onsite shepherd's hut – which has even seen a booking from a honeymoon couple!
Gary Verity, chief executive of Welcome to Yorkshire said: "We are thrilled with the news that there will be another series, The Dales has really captured the nation's heart. This means we have another chance to showcase what we have to offer to millions of viewers and potential visitors across the nation.
"The stars of the show have really flown the flag for the Yorkshire Dales and we were proud to have them as special guests at the Great Yorkshire Show."
Welcome to Yorkshire set up a specially dedicated website to the programme, giving viewers all the information they need about the series and about visiting the Yorkshire Dales. Since The Dales started in March, the website has notched up more than 116,000 online hits.
Latest figures from Welcome to Yorkshire show that self catering accommodation in the Yorkshire Dales were up 6% for April compared to the same time last year. Visitor numbers to attractions in the Yorkshire Dales & Harrogate area were up a massive 35% in April 2011, compared to the same time last year.
The three-day Great Yorkshire Show, from Tuesday July 12 to Thursday July 14, attracts more than 130,000 visitors and is now England's premier agricultural show.