Two iconic sculptures from the world-famous Yorkshire Sculpture Park have been carefully craned into their temporary home in time for the start of the 153rd Great Yorkshire Show next week. (Tuesday 12 July 2011)
In a major coup for England's premier agricultural show, which runs from Tuesday 12 to Thursday 14 July 2011, the two 3.6m high works of art, which have a combined weight of 14 tonnes, have taken pride of place in front of the President's Pavilion at the 250-acre showground.
The internationally-renowned pieces of sculpture are sure to prove a huge draw huge draw for the expected 130,000 visitors, including guests of honour HRH The Prince of Wales and HRH The Duchess of Cornwall.
'Crawling' and 'Héros de Lumière' – believed to be the first time sculptures of such importance have been displayed at an agricultural show – arrived at the showground on board a 16-metre long trailer before being carefully lowered into their temporary home by a giant crane.
Nigel Pulling, Chief Executive of the Yorkshire Agricultural Society is delighted by the two new temporary additions to the showground. "Yorkshire is recognised as a centre of excellence for sculpture, with the Yorkshire Sculpture Park and the newly-opened Hepworth Gallery.
"We wanted to give our visitors the chance to see the sculptures in a different setting and now they are here on our President's lawn, they really are fantastic.
"It is yet another attraction for visitors to enjoy when they visit this year's Great Yorkshire Show," he said.
British sculptor Sophie Ryder's bronze 'Crawling', a hybrid female/mother figure, with the head of a hare and a human body, has been displayed at the Park for the past three years.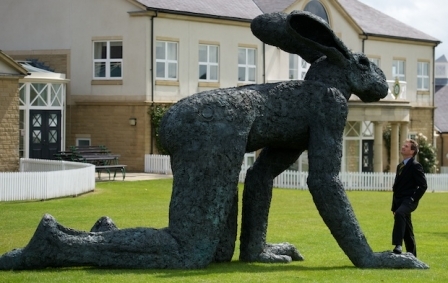 Ryder created the piece in 1999 using a steel armature, around which she moulded and bent different thicknesses of wire. The finished bronze – 6.2m long and weighing five tons – was then dipped in boiling zinc to galvanize it.
Polish sculptor Igor Mitoraj's 'Héros de Lumière or 'Hero of Light' was created in 1986 and can be seen at the show after a period out of the limelight. The nine ton piece of artwork has been modelled in carrara marble by Mitoraj, following the style favoured by Renaissance sculptors such as Michaelangelo.
Alan Mackenzie, Head of Sculpture and Estates at Yorkshire Sculpture Park said moving the two gigantic pieces of artwork involved a team of technical experts to ensure all went smoothly and that the sculptures arrived in their new surroundings without a hitch.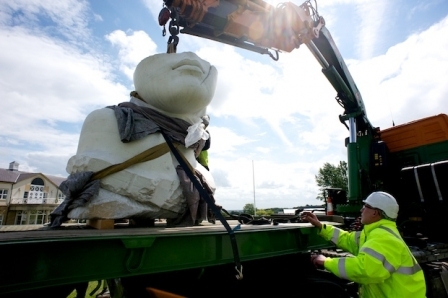 "We wanted to bring pieces of art that were of a scale and would be noticed, and enjoyed by the thousands of visitors that come to the Great Yorkshire Show. We thought bringing Crawling would be appropriate – although we don't know what class we will enter the giant hare into!" he said.
The sculptures' journey to Harrogate from the world-famous sculpture park at Wakefield has kindly been supported by Welcome to Yorkshire
The Great Yorkshire Show runs from Tuesday 12 to Thursday 14 July 2011. For more information visit www.greatyorkshireshow.co.uk