North Yorkshire County Council has confirmed that the 'Connecting North Yorkshire' project has received funding of up to £16.4 million to bring high-speed broadband to everybody in the region and all businesses by 2017.
Connecting North Yorkshire is a programme led by the county council, working with a range of partners including NYnet to bring high quality broadband to the county.
The funding has been granted by Broadband Delivery UK (BDUK), a Government organisation that has been tasked with ensuring that all areas of the UK can receive broadband access by 2012 and high-speed broadband by 2017. North Yorkshire was chosen in October 2010 as one of four areas for a pilot rural broadband project.
NYnet, the county council's broadband company, is also working with the European Regional Development Fund to secure match funding bringing the total investment to £25 – £30 million.
County Councillor Carl Les, chairman of Connecting North Yorkshire said: "We are determined to ensure that businesses and the people of North Yorkshire continue to thrive and high quality broadband is essential to thriving communities.
"The ability to offer services such as remote access to computers and servers, video-conferencing, web-meetings and access to a company telephony system, will put North Yorkshire on a level playing field with the major cities such as Leeds and London."
Cllr Les added that remote working results in many other benefits such as increased productivity, reduced accommodation costs and a lower carbon footprint: "Indeed, high-speed broadband benefits a broad demographic of people. Young people for example can access e-learning and a broader curriculum, often unavailable to remote, rural schools. It also enables technology to be used to monitor and provide care direct into individual homes, allowing people to stay independent for as long as possible".
North Yorkshire is England's largest rural county with a population of just under 600,000 spread over roughly 3,000 square miles. Approximately one in eight of the working age population of the county is self-employed.
The remoteness of the region has previously resulted in limited broadband access. As a consequence there is concern that the demographic profile of North Yorkshire will become further polarised.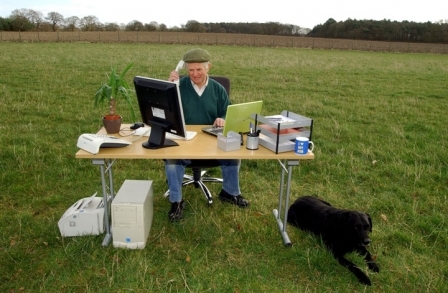 Culture Secretary Jeremy Hunt said: "This pilot has made real progress and the funding allocation marks an important step in taking superfast broadband to the homes and businesses of North Yorkshire.
"The internet has become an integral part of our economy and our everyday lives. It is essential that all homes and businesses in the UK have access to decent broadband.
"We want the UK to have the best superfast broadband in Europe by 2015 and we have allocated £53 million to make this happen."
David Cullen, NYnet chief executive said a procurement process was now underway for the building of the new network: "This will allow us to provide many more North Yorkshire people with high quality broadband." Mr Cullen added that this process is expected to take 12 months and should be completed by June 2012.
For more details on Connecting North Yorkshire please visit www.northyorks.gov.uk/broadband