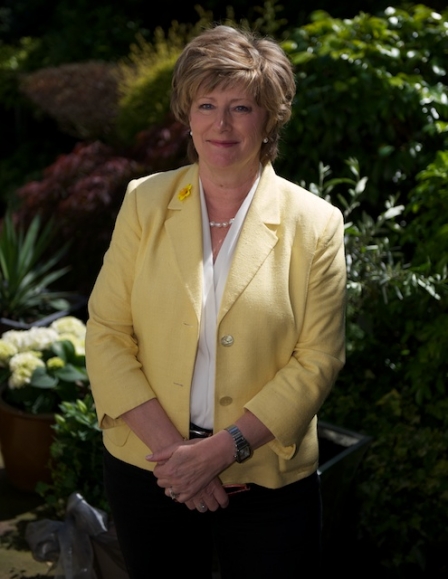 Christine Hamilton-Stewart has been awarded an MBE for her services to the Marie Curie Cancer Care charity.
Christine, a former nurse, started her work with the charity over 14 years ago when she set out to raise £ 1 Million to build a hospice in Bradford.  Christine and her team smashed through the million target and went on to raise £ 3.5 Million. The hospice was built and continues to care for people to this day.
Now living in Harrogate, she is a key figure in raising the funds needed to provide the end of life care to people in the region.
Marie Curie relies significantly on charitable contributions of all sizes and the support from volunteers.
Christine explained further: "We just couldn't function without the support of our volunteers and from the donations that we receive.
"All the money that is raised locally is used locally and £20 will pay for an hour of a nurse -we welcome volunteers to help whether as a driver or just collecting donations for a couple of hours.
"Even a small donation or giving up a small amount of time makes a difference."
Explaining more about the work of Marie Curie: "We provide a very specialist end of life care to patients in their own homes, enabling them to maintain their dignity – it helps to give  them choices about how and where they spend the final days of their lives.
"Hospitals are not the right place for people, they can not give the specialist care needed and are just not where people want to be.
"Our nurses provide support to families and we pride ourselves on giving nurses the freedom to provide the support needed at the time which may be very different between patients."
Fabian French, Director of Fundraising for Marie Curie Cancer Care, said:
"Christine has made an enormous contribution as a senior volunteer for Marie Curie Cancer Care and has been at the very heart of our work in Yorkshire for many years.
"Christine initially joined the charity as Chair of the fundraising Appeal Committee to build our Bradford Hospice and then went on to become Patron of the Hospice once it was completed in 2001. She is also a Vice President of the charity.
"Christine is a dynamic and inspirational fundraiser, as well as a passionate advocate of the charity's work both in the Bradford Hospice and the work our nurses carry out in people's homes across the local community. We are delighted that she has been recognised with an MBE from the Queen; it is thoroughly deserved."