Almost everyone thinks they know that one person who is funny enough to be a comedian but for Tom Taylor, a university student from Harrogate, pub banter has just become a reality.
For, on Wednesday, July 6, his monthly comedy club, sitting room, will launch the first show in an exciting new series of comedy nights held at the St George Hotel, Harrogate.
The 19 year old, who is currently studying for a music degree at the University of York, has already secured some of the country's leading comedians to headline upcoming shows, including Roger Monkhouse (writer on '8 Out of 10 Cats'), Paul Foot ('Never Mind the Buzzcocks') and Hal Cruttenden ('Michael McIntyre's Comedy Roadshow', 'The Royal Variety Performance').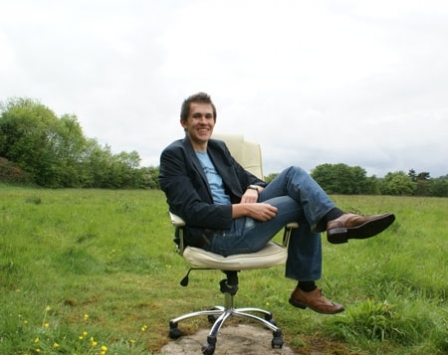 As well as acting as promoter and organiser, the former Ashville College head of school will also be taking a leading role on show nights as sitting room's resident compère, introducing the acts and performing his own material.
Tom said: "I have always enjoyed writing and performance, especially over the last six months as part of York's comedy scene. I did a lot of public speaking whilst at school and I try and gig frequently, weddings and functions, but, as a musician, laughter is rarely a sign of things going well.
"Getting involved in live stand-up after starting university was really exciting. It is encouraging when people laugh in the intended places. In fact, I was invited to join a comedy troupe in the city but they folded in the period between my acceptance and intended first performance. Setting up my own event seemed the next step, even if that step was far from logical.
"I see sitting room as a fully functioning business. Harrogate loves its comedy and this is an opportunity to see some of the most established acts and up-and-coming comics perform in a traditional, relaxed comedy club environment.
"It also provides me with a platform to hone my writing skills and, essentially, establish and run a business.
"Young entrepreneurship is massive now, almost as big as Furbies in the 90s. More and more young people are having a crack at becoming mini Sugars and Bransons. What I'm doing is similar but exhibits a much greater amount of madness. I have no idea how I am going to justify all of this to Student Finance.
He added: "I am still amazed that I am corresponding with comedians that I have followed and admired for years. It is a surreal experience.
"But an experience that has resulted in brilliant comedians wanting to come and perform as part of sitting room.
Roger, Paul and Hal are three of the biggest headliners on the comedy club circuit but the other comics are all closing acts in their own right.
"Colin Cole is one of the most sought-after comedians and actors in Australia and he is beginning to really make a name for himself in Britain.
"In September, we welcome Carly Smallman, who is enjoying a massive following after appearing on 'The Rob Brydon Show' earlier this year, as well as Tony Burgess who has written and performed extensively on Jonny Vegas's television projects.
"And if that wasn't enough, Tony Law joins Hal in December, on the back of his success on 'Russell Howard's Good News' and Hattie Hayridge, of 'Red Dwarf' fame, is appearing in October.
"These aren't pub gigs, they will be seriously funny shows. All I need now is an audience; otherwise it's just a massive – and expensive – self-indulgence on my part."
Tickets for the July and September sitting room shows, starting at 8pm (doors/bar: 7pm) at the St George Hotel, Ripon Road, Harrogate, are priced at £10 and are available from sitting room's website, www.sittingroomcomedy.com, or from the St George reception.
There will also be a limited number available on the door.