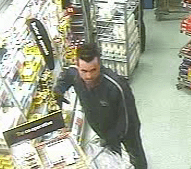 Can you identify a Co-op Store thief?
He was caught on camera in the Co-op store on Main Street in the village, at approximately 1.45pm on Thursday 26 May 2011. He placed a number of items in shopping bags, which were in his basket, before leaving the store without paying for the goods.
The suspect is described as being a white man with short dark hair. When he left the Co-op the man headed towards Station Road.
Police Constable Sue Marklew of the Crosshills Safer Neighbourhood Team, said; "I would like to speak to anyone who can help to identify the man who was caught on camera having placed a number of items in shopping bags that were already in the basket he was carrying."
If you can assist with this investigation please contact PC Sue Marklew on 0845 60 60 24 7 quoting reference number 12110047987. Or Crimestoppers, anonymously, on 0800 555 111.